Hi there,
I'm having an issue where I'm trying to use the command line to access a particular file with ffprobe. It gets tripped up on the spaces in my file path so I need some way of escaping them. This works:

However I need to store the path information in variables. This is where I run into issues because this doesn't work:

I get the error "No such file or directory"
Something like this also doesn't work: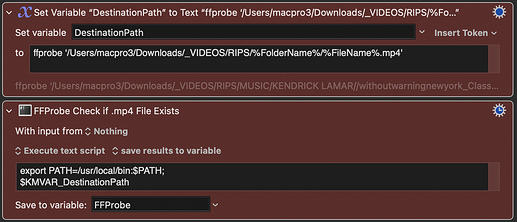 I get the error: "Argument 'LAMAR/withoutwarningnewyork_Classic_album_incoming_kendricklamar_theheartpart5_topimpabutterfly_.mp4'' provided as input filename, but ''/Users/macpro3/Downloads/_VIDEOS/RIPS/REEL/KENDRICK' was already specified."
I'm far from being an expert on the command line or shell scripts so maybe this is really obvious but any thoughts would be super appreciated.