I do much of my daily thinking, outlining and planning in a single date-stamped text file for today, sometimes putting things into tomorrow's file in advance, or copying things over from yesterday's file.
Here are 3 macros for one-key creation and/or opening of today's, yesterday's and tomorrow's files.

dateStampedNoteFiles.kmmacros (105.6 KB)
an additional macro lets you change the settings for:
the folder in which date-stamped notes are kept,
their filename prefix and extension,
and the app which opens them.
NB adjust and test the app name and note folder settings to get a match with your needs and setup: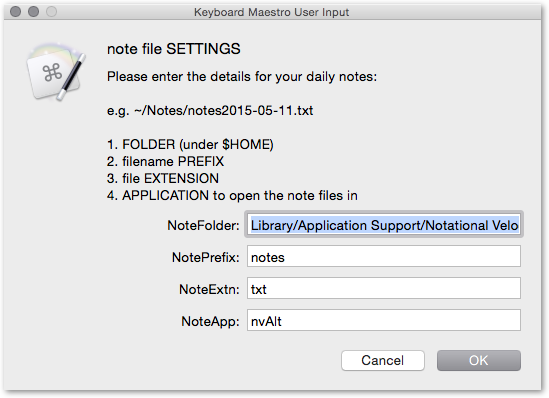 Additional macros of this kind (two days ago, seven days from now, etc) can be quickly created by editing a single value:
+0d → today
-1d → yesterday
+2d → two days hence
+1w → seven days from now
etc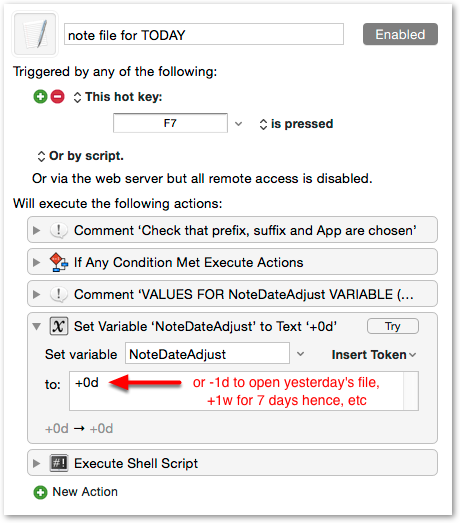 The shell script, FWIW, looks like this:
wkg="$HOME/$KMVAR_NoteFolder"
notePrefix="$KMVAR_NotePrefix"
fileExtn="$KMVAR_NoteExtn"
app="$KMVAR_NoteApp"

# See (in BASH date, the -v flag) 
# "-v-1d" --> yesterday
# "-v+1d" --> tomorrow
# "" --> today (default)
if [[ -z "$KMVAR_NoteDateAdjust" ]]; 
then
	dateAdjust=
else
	dateAdjust="-v$KMVAR_NoteDateAdjust"
fi

noteDate=$(date $dateAdjust "+%Y-%m-%d")
dayfile="$wkg/$notePrefix$noteDate.$KMVAR_NoteExtn"
touch "$dayfile"

open -a "$app" "$dayfile"