I have this, but it's not working: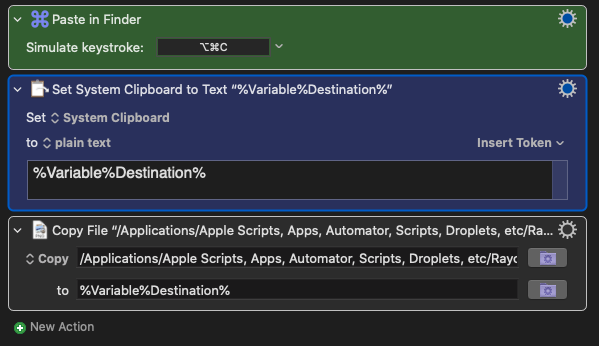 You've got the Set action the wrong way round.
You need to Set the variable Destination to %SystemClipboard%
Your blue action is backwards; you're setting the clipboard to a variable that doesn't exist. What you wanted was to set a variable to %SystemClipboard%.
However, that's actually unnecessary too. All you have to do is replace the variable in the final action with %SystemClipboard% (and remove the middle action).
In fact, if you're trying to copy an existing file to your current Finder location, you only need one action.
Delete the first two and set the copy destination to:
%FinderInsertionLocation%
Oh right...!
The intention was good, but I saw it backwards... haha
Thanks!
That's a good option too. Thanks!
Awesome! That worked. Will save that tip in my Notes for future reference