Hey guys,
I still have some problems using typing-related tasks.
a) using custom-duration holded modifiers:
I simply want to perform the following task:
In ProTools (audio workstation) I want to select an area that lies between two location markers in a timeline. What I need to do is:
Press the keys: comma-7-comma on the numpad, then hold Shift and then while keeping holding Shift press/type comma-8-comma.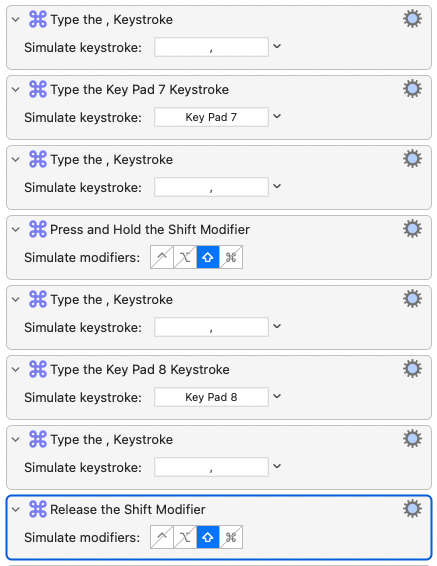 This doesn't work. It seems to be that the holding of the shift key is being ignored. I already tried the same macro inserted 1 sec pauses after actions #3,#4 and #7 without success....
Since I wasn't able to perform this general task pattern (hold modifier x, do some action or typing and release modifier x) so far at all I'd be happy to hear what I'm doing wrong here....
b) I want to perform some single key shortcuts in a row - just like the three first actions in the macro above (comma-7-comma). I've tried to do that using the "Insert Text by Typing" action instead which didn't work....is there any way of grouping consecutive single key presses in one action ? Would save a lot of "building blocks" and hence screen space in a macro....
c) Is it possible to adjust the typing speed of "Insert text by typing" ?
Thanks !