Is there any shortcut key to open the status menu? I can click it but prefer shortcut key. Thanks.
There is not a native shortcut key for the KM Status Menu.
Even though there is an Action for this, both macros and UI scripts that try to activate (click on) the Status menu all incur about a 6 second delay after doing so.
Bottom line: we are stuck with having to click on the Status Menu.
Not this?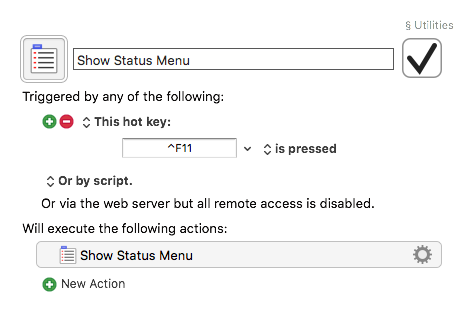 Newbie followup: Where is the Status Menu to be able to click on it?
I can't tell what I'm looking for because I don't know what it is or where to expect it. The manual will show me list of the filenames for the menu icons, but still no image of what I'm looking for.
I don't think this is the KBM icon in the Mac Status bar at the bottom of the screen, is it?
Do I have to create a macro to show it before it can know what it is and what it does? That is starting to seem like the KBM way of doing things.
Thanks.
@August welcome to the forum.
This is the Keyboard Maestro Item in the Menu Bar. Here is a short instruction how to create it as a macro: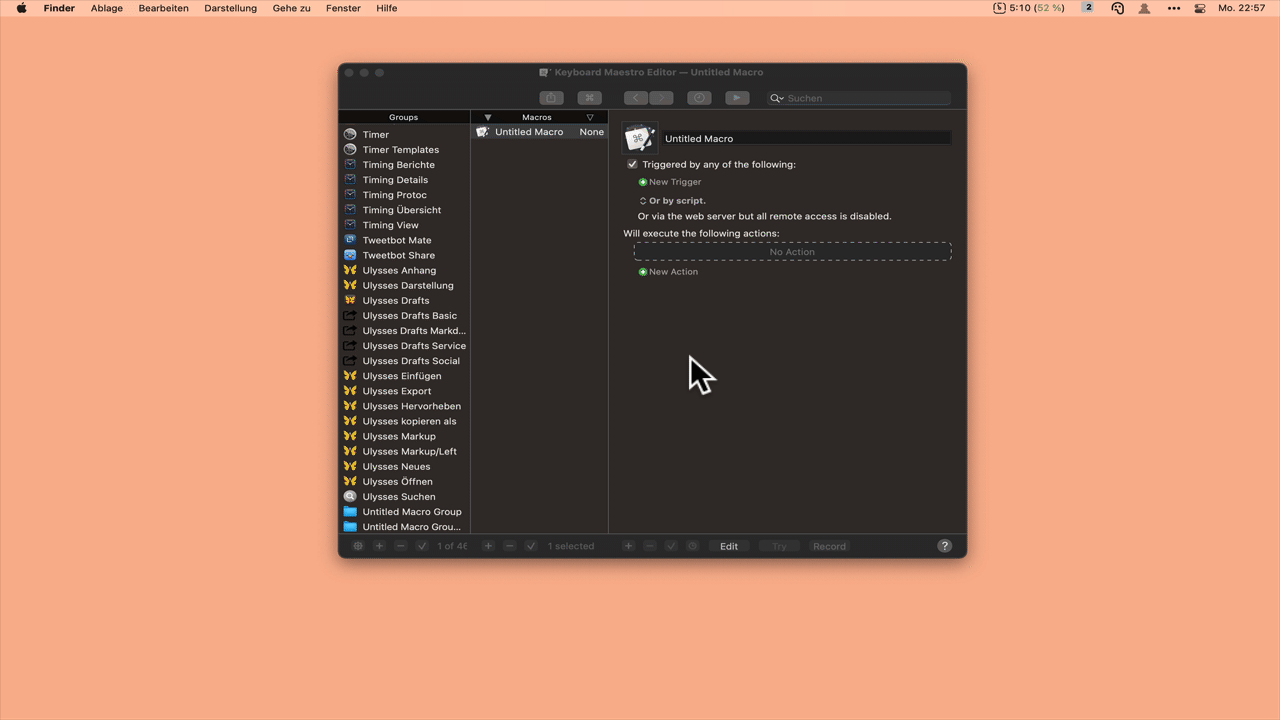 Would you like to open another app in the menu bar with a Keyboard Maestro macro?
Thanks appleianer,
I had not yet noticed that there was a KBM button in the Menu Bar at the top of screen. As a beginner, I have not yet learned to associate the "Command Pretzel" with KBM. The Command Pretzel is also the logo of https://apple.stackexchange.com/ which I use a lot.
Please, someone, add this to the KBM Quick Start. If it's there already, please tell me and I'll suggest an edit to make it more findable because I went through the Quick Start and the FAQ a couple of times without getting this.
Thanks.
Hey August,
That happens...

Personally I recommend the Iconoholic Loud Icon for Keyboard Maestro.
You can find more by selecting from the following Keyboard Maestro preference: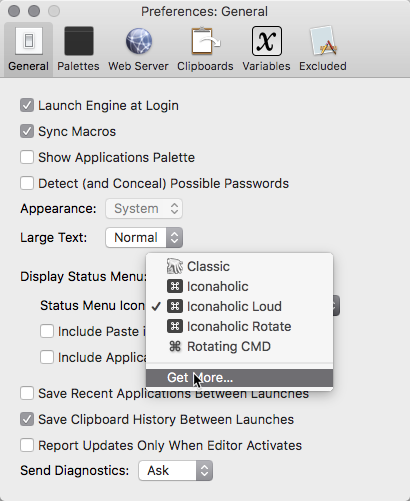 * Iconoholic Loud is not installed by default.
New Status Menu icons are installed here:
~/Library/Application Support/Keyboard Maestro/Status Menu Icons/

This icon will get your attention when a macro is running, and it has saved my bacon a few times when I noticed a macro was taking faaar too long to run.
-Chris
Thanks Chris.
What does that icon look like, and is just graphically loud or does it have sound to go with it?
=A=
Since I provided a download link, I'll let you explore that question for yourself.

-Chris
I'm not sure exactly, but if you have a modern keyboard, you can do it yourself in its settings
Thanks Chris.

I found out from Keyboard Maestro > Preferences > General that there's a menu choice for Status Menu Icon where I had the default Iconoholic. By changing it to Classic I got the "Hand waving over a key" icon that at least isn't confused with anything else. It may not be part of current Keyboard Maestro branding, but it works for me to know what that icon is for.
The dropdown menu also has a Get more... link to download page for the Iconoholic Loud and Iconoholic Louder icon images as well as the Radar icon images that I haven't looked at yet.
Thanks for the installation location -- that's not mentioned on the download page, and it probably should be.
Yes, I could indeed install the Loud and Louder icons to see what they are, but this post has taken all my available time at the moment.
Thanks again,
August
.
[Meta question: Is there a filter on Forum posts that automagically turns "Library" and "Keyboard Maestro" green in the above line? It's not in my text.]
Odd.
I posted using code fencing, and the original post is not colored – only the quoted version...
-Chris
Ah, it looks like the quoting stripped the explicit 'text' fence I was using – and I think the default parser is AppleScript.
~/Library/Application Support/Keyboard Maestro/Status Menu Icons/

~/Library/Application Support/Keyboard Maestro/Status Menu Icons/

~/Library/Application Support/Keyboard Maestro/Status Menu Icons/

~/Library/Application Support/Keyboard Maestro/Status Menu Icons/

-Chris