I have a case where there are three options for a variable (localCensusDetail) based on the value of another variable (localCensusYear). There are 10 possible values of localCensus year. So I'd like to use an OR list as the Case choice
I have tried to do that in KM using comma separated values and I also tried separating with | (see screenshot) and I also tried both of those using "contains" rather than "is"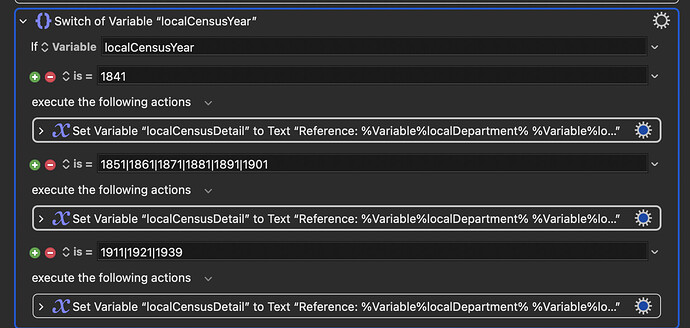 None of these formats worked (the first choice where there is only a single possible value, 1841, does work)... So is there a correct format for this or is it not a permitted way of using Switch/Case?
If the latter, is my only choice to enter one "execute" statement for each possible value of localCensusYear even though there is significant redundancy or is there a more elegant solution?
Dave