Valuable tagging work has recently been undertaken in the KM forum.
For moments when the tagging may feel like slightly too much information and visual clutter for a quick unimpeded glance, or reduces the number of posts that are visible on the screen, this macro toggles between the tagged view and a visually cleaner view without the tags.
The JavaScript (for Chrome and Safari) is an adaption (for toggling) of an original version by Onan of http://insomniacsoftware.com
Tag view toggle for forum.keyboardmaestro.com.kmmacros (23.8 KB)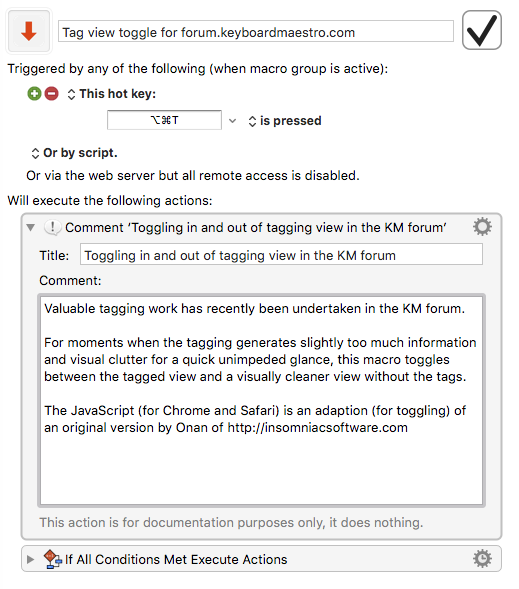 Onan's original script is at: A tag-free view of the forum?
The source of this (toggling) draft is:
// Toggling version 0.1 is an edit by @complexpoint 

// Based on 
// ==UserScript==
// @name         Hide Discourse Tags
// @namespace    http://insomniacsoftware.com/
// @version      0.1
// @description  Simply hides the Discourse Tags
// @author       Onan of Insomniac Software
// @include      https://forum.keyboardmaestro.com/*
// ==/UserScript==

(function () {
  
    if (document.URL.indexOf(
		"forum.keyboardmaestro.com"
	) === -1) {
	return undefined
    };

    var css = [
        ".list-tags, .discourse-tags",
        "{ display: none !important; }"
    ].join("\n");

    var maybeNode = document.getElementById('tagtoggle'),
        blnMissing = maybeNode === null;

    if (blnMissing || maybeNode.textContent.length === 0) {
        var node = maybeNode || document.createElement("style");
        node.type = "text/css";
        node.id = "tagtoggle";
        node.appendChild(document.createTextNode(css));

        if (blnMissing) {
            var divs = document.getElementsByClassName("list-tags");
            if (divs.length > 0) {
                divs[0].appendChild(node);
            } else {
                document.documentElement.appendChild(node);
            }
        }
    } else {
        maybeNode.textContent = ""
    }
})();