Hello Forum,
I want KM to do a specific task for me and I'm in need of assistance.
I'm in the music-notation program Finale, within a filter-menu. This filter-menu allows me to filter from the musical text specific items, such as, notes, rests, dynamics (forte, pianissimo, etc.), lyrics, and others. The filter works 'box-style' and is additive; it lets you tick the boxes for the type of items that you want to include in your filter (see screenshot).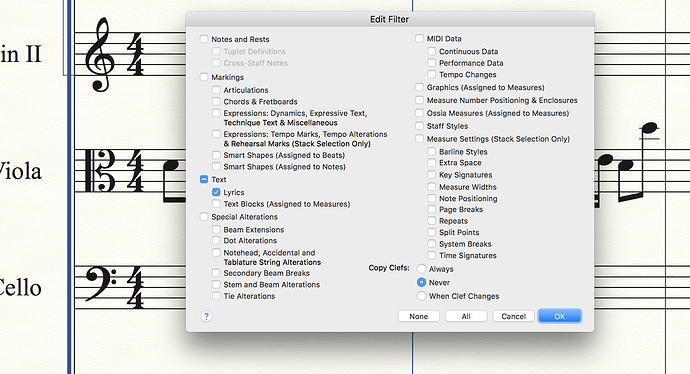 This is my question:
After my macro loads this filter menu, is there a way I can program KM to, in a sense, pause its step-by-step pace and allow me to tick the boxes I want to?
And (this one's the million dollar question): can I assign a single key for each filter box, such as, "d" for dynamics or "r" for rests, etc.?
Thank you very much,
A. P.