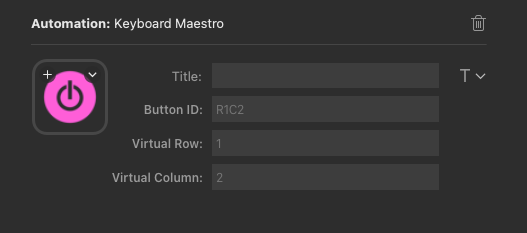 Toggl Button.kmmacros (277.2 KB)
If you track time your time with the excellent Toggl Track application, these macros will smooth your workflow by providing a button in Stream Deck you can push in order to stop or continue tracking an entry, in addition to having a coloured icon indicating the tracking status (on/off).
Push a button to continue/stop the last entry.
Status is updated when unlocking / periodically / by pushing the button with the ⌥ (opt) modifier.
The macros are to be used with the official KM plugin for Stream Deck and togglCli installed at /usr/local/bin/toggl. You may easily change the macros to use another command-line interface to access Toggl API if you want.
This is the main macro:

Optional: integrate the alfred-toggl plugin and use the button with a modifier ( ⇧ ) to start a new entry. Create an External trigger connected with the Key action in the Alfred Workflow canvas and give it an identifier to be called via AppleScript (e. g. tgt) from the KM macro: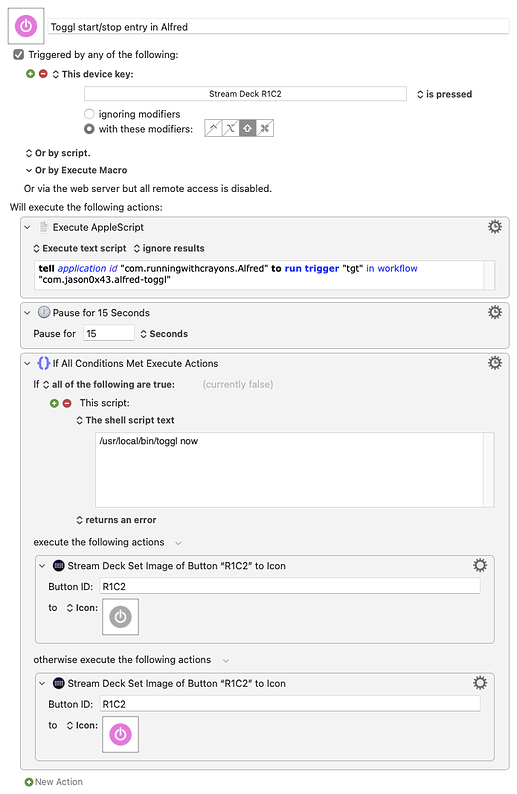 Enjoy!