Hi all,
As my endless quest for automation continues, I've found myself running out of memorable keyboard shortcuts, and so I've been seeing if it's possible to create a Hotstring macro in KM. The basic idea is that the macro would:
Be able to trigger other macros using a short alphanumeric sequence (or hotstring) in a safe environment where they wouldn't accidentally be triggered by normal typing
Display a list of all possible hotstrings and details of what they trigger (so i don't forget them)
Filter the list as i type to only show the remaining matches
Automatically trigger the associated macro when the typed string exactly matches the hotstring (so that partial matches don't trigger too soon)
After far too much messing around with entirely overcomplicated solutions, I have come up with this.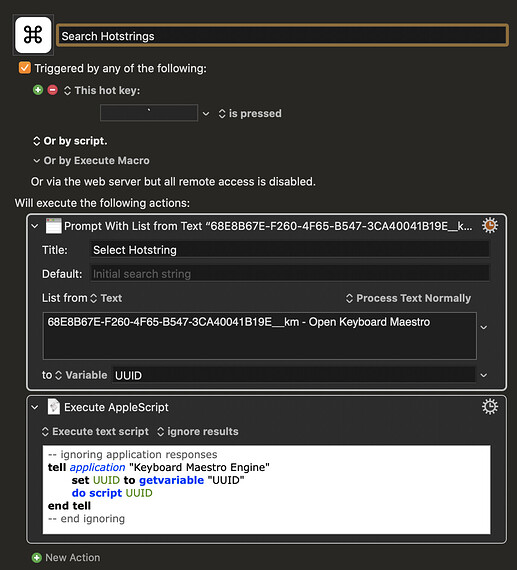 The format of the list items would be:
UUID__Hotstring - Details
The only thing that it is missing is the ability for the associated macro to trigger when the typed string exactly matches the hotstring. Granted, it only takes an extra half a second to hit enter, so this is by no means an essential feature - but it would be pretty cool...
Does anyone have thoughts on this - is it even possible?
Thanks!