There is a topic on this forum called "How to trigger a macro from the Services menu?" but it's 3 years old and its advice doesn't seem to work anymore (perhaps because macOS/Automator has changed) so I need to repeat this question.
I'm trying to create a macOS service to call a KM macro (perhaps using Applescript to invoke it) so that I can process text inside other macOS applications. Before I even get to KM I have a problem. A simple example is to use Automator to create a "service" with one action called "Run Shell Script" which calls "sort" which takes the selected text as input, sorts it, and then replaces the output with the sorted data.
Despite a variety of tactics and variations I can't get the following one line Automator action to work: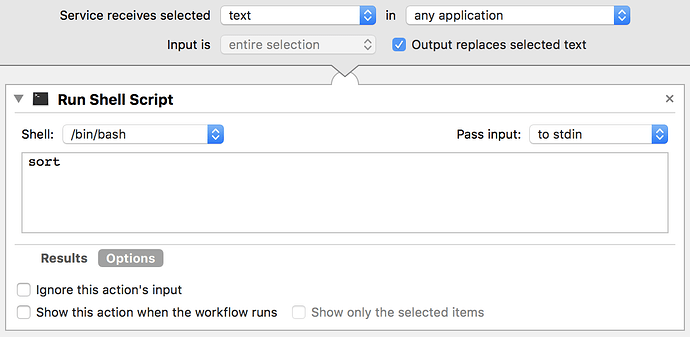 Even though this action has been saved and compiled, it does not actually "replace selected text". In the case of the sort command, it actually displays no output when I click on the Results button near the bottom of the photo. So if I replace "sort" with "ls", run it, and click on Results, I can get this: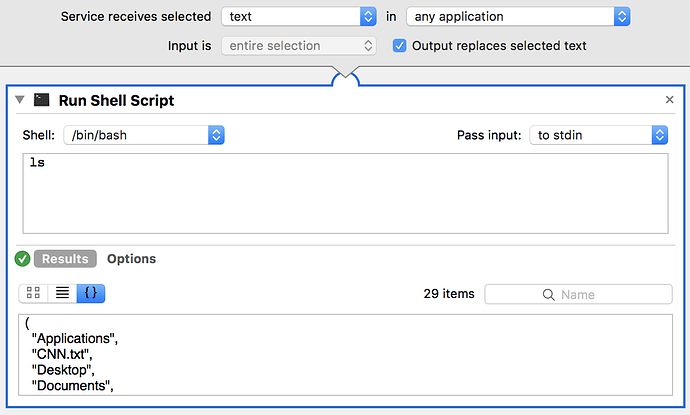 You can see in the Results pane above that the ls command produces output, but when I invoke it from the Services pane of the Notes app, or any other app, the results are NOT inserted into the selected text.
So there's two problems I can't resolve. 1) Automator is not passing input to stdin; 2) Automator is not replacing selected text.