Hi there,
I'm trying to find a way to 'arm' a macro– maybe via a status menu item, and then once armed, have an if-then statement trigger once per click, until disarmed.
Larger context: This macro helps me complete the final phase of my process for charting acoustic guitar songs– Placing each chord where it fits amongst the lyrics. The result of a previous macro is a Google Doc with lyrics and chords (extracted from a web search) formatted such that the chords and lyrics appear on alternating lines (the chords for a given set of lyrics being on the line above them).
What I'm going for is to be able to go through such a document, clicking where each next chord should go, placing them between lyrics.
So far what I have working is the part that belongs inside the if-then sequence– It goes to the line above, performs a regex search to grab the next chord and remove it, then pastes it.
What's not working is
– The click triggering the if-then sequence
– The location of the click being captured so that the chord can be pasted where the click was
Source material looks like: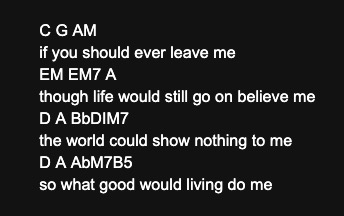 Screenshots of version with attempted if-then and click portions disabled for testing of other parts:
![image|690x526](upload://subFg9ou3KW0zZ299bPJBpsx4Tn.jpeg

Screenshots of non-working version vaguely resembling what I'm imagining, with if-then enclosing the rest and clicking parts activated:

Any help is appreciated!