This is a very, very simple one - but something I've been using more and more...
With Keyboard Maestro notifications there are three standard options to Display Text:

I've used them all and they each have their advantages and drawbacks:
Display text in a window - I have to click to make the Window close and the Window appears in different parts of the screen to where I am focussed. Its big bonus is that the displayed text can be copied.
Display text briefly - is a standard in the top corner notification. Its bonus is that it goes after a few moments. But again, I am often not looking up in that corner especially if I have just entered something into a Keyboard Maestro Prompt Window. So, it doesn't work well to give instructions.
Display text large - this goes after a time but there is no control over how large the text is and it is huge.
So... I've started to mostly use the Prompt for User Input Action to act as a Notification. The advantages are that it appears wherever I last moved a Prompt window and that is most likely exactly where I would like the notification to appear. Also, I can set a timeout to whatever I want (3 seconds is usually fine) and it can be dismissed sooner by clicking its OK button.

To get it to work you need to set a couple of things in the Action gear menu: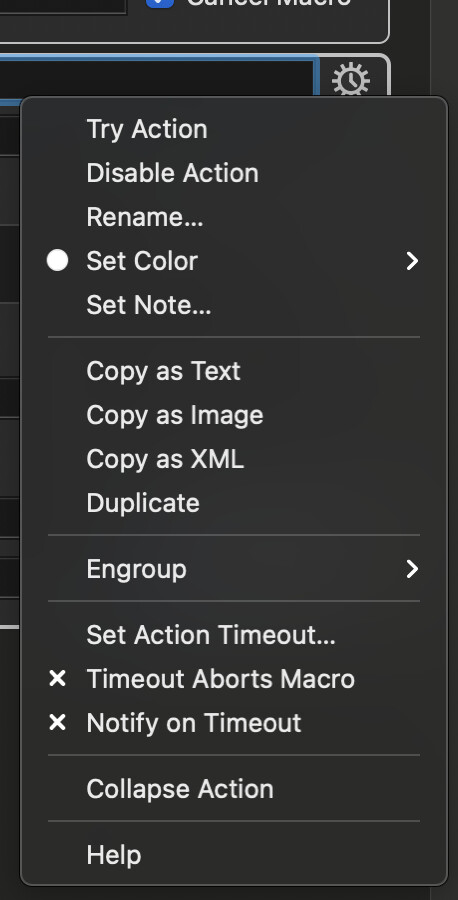 Timeout Aborts Macro and Notify on Timeout must both be off (x) and you need to set the actual Timeout time:

Leave the title blank and you put whatever you want the notification to say in the Prompt Field.
And no need for the "Cancel Button".
Here is an example Macro to show how this all works in practice. The first Action is just a standard Prompt to ask for some data - it doesn't timeout.
The second Prompt (the one with the dotted red line around it in the image below) is the one that I've set up as a Notification and it goes after 3 seconds.
Use Prompt for User Input as Notification EXAMPLE.kmmacros (27.0 KB)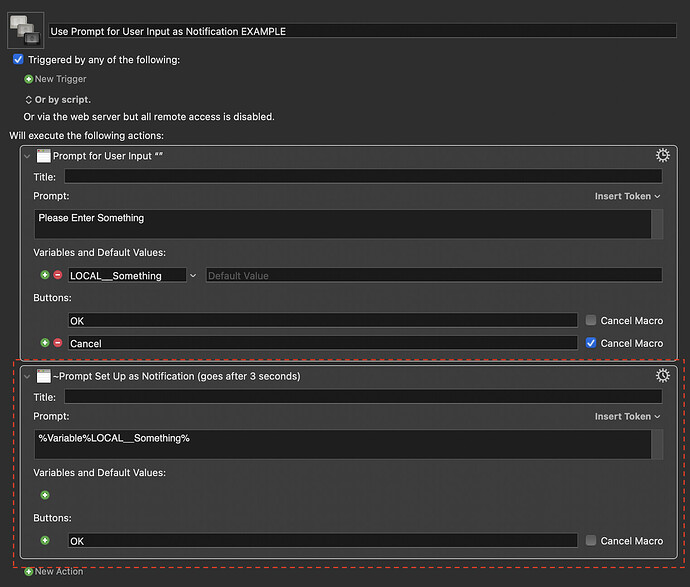 As I said, its an extremely simple idea but I haven't seen anyone else mentioning it and I stumbled upon it almost by accident.