First, some context. I have a series of menus in an online form for setting grades for students, and I want to take a list of grades and iterate through the menus to set each grade. The menus can be identified with identical names except for a number, so I just want to iterate through the menus and assign the respective grade (menu 1 = first grade in list, menu 2 = second, etc.).
The issue comes about in trying to use a variable in the Action that selects the grade. The following works for the first menu: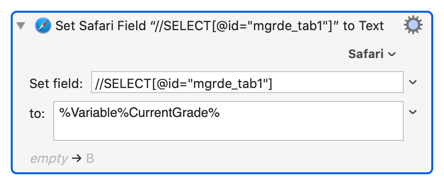 However, if I try to replace the "1" with a variable so that I can iterate through all the menus, such as the following, nothing happens when I "try" the action:

I'm assuming I'm missing a simple detail, but why doesn't the variable work in this context?