Yes, but I'm speaking of the list in the edit console. It's scrollable, yes, but as you can tell from the length of the scroll handle there isn't much to scroll. Just the tags I listed above.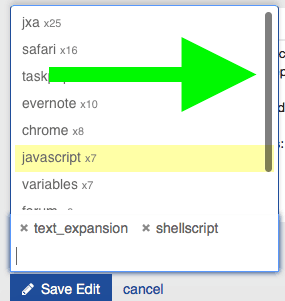 The All Tags list seems to be complete. But I don't see a way to access the All Tags list for editing.(?)
[Edit:] Just to be sure I deleted my browser cache. But this didn't change nothing.
[Edit II:] Tried it in another browser (FF) and it's the same.