I find this page very confusing, and I suspect many others do as well, especially those new to Keyboard Maestro:
action:Submit Google Chrome Form [Keyboard Maestro Wiki]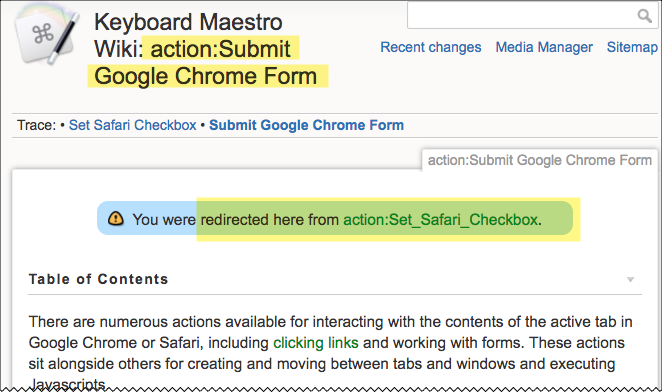 My first reaction is that the Wiki redirected me to the wrong page, since I clicked on the Safari action, but was redirected to a Chrome action.
At that point I actually quit reading the page, and close the page or search for something else.
IMO, all Wiki redirects that are for pointing multiple Actions to the same page should go to a common, non-Action-specific, page, that is appropriately titled.
So, if you really want all "Safari Control" and "Google Control" actions to redirect to the same page, then that page should be titled something like:
Controlling Safari and Chrome Web Pages
That would be a big improvement, but I think a better solution is to have a common page for only one KM Action type, like "Set Checkbox (Safari and Chrome)."
Your thoughts?