.
In order to advance my use of Keyboard Maestro, I have decided to learn regular expressions (RegEx).
Like climbing a mountain, one must begin at the bottom.
To be helpful to other RegEx novices here, I will report progress as I start to climb, including any slips and falls along the way.
I invite others to comment here, too.
.
The motivation to learn:
.
Those comments, and other, similar encouragement on this forum, motivated me to get started.
.
Where, exactly, to begin?
After looking at several web sites, I have decided to start with http://regexr.com/
It seems beginner-friendly.
We shall see if I've selected the best route up this mountain, or not.
That site offers a video tutorial: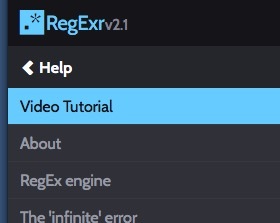 Time: 02:45.
Narrator speaks clearly and to the point.
I think he'll be a good guide on this climb.
But he speaks so quickly that I must watch the video again, probably 3-4-5 times, to absorb it.
As a beginner, I found the most useful part of that video to be where to find examples (time 1:46 to 2:05).
That will be my entry point to learning about RegEx; asking, "What can it do?"
I'll report back here when I've found some answers to that question, (in the context of using Keyboard Maestro).
.
I welcome comments from other beginners. And I especially encourage critique from experienced climbers, who still remember their first climb up "Mount RegEx".