MACRO:   
@Date

Add Time to Current Date

@Example

---- VER: 1.0    2017-06-09 ~~~
DOWNLOAD:
@Date Add Time to Current Date @Example.kmmacros (5.7 KB)
Note: This Macro was uploaded in a DISABLED state. You must enable before it can be triggered.
---
ReleaseNotes
Author.@JMichaelTX
PURPOSE:
Show How to Add Time to Current Date
NOTICE: This macro/script is just an Example
It has had very limited testing.
You need to test further before using in a production environment.
It does not have extensive error checking/handling.
It may not be complete. It is provided as an example to show you one approach to solving a problem.
HOW TO USE:
Trigger this macro
Enter the number of days you want to add
FOR MORE INFO, SEE:
MACRO SETUP
Carefully review the Release Notes and the Macro Actions

Make sure you understand what the Macro will do.
You are responsible for running the Macro, not me.
.

Assign a Trigger to this maro.
Move this macro to a Macro Group that is only Active when you need this Macro.
ENABLE this Macro.
TAGS: @Date @Add @Example
USER SETTINGS:
Any Action in magenta color is designed to be changed by end-user
ACTION COLOR CODES
To facilitate the reading, customizing, and maintenance of this macro,
key Actions are colored as follows:
GREEN -- Key Comments designed to highlight main sections of macro
MAGENTA -- Actions designed to be customized by user
YELLOW -- Primary Actions (usually the main purpose of the macro)
ORANGE -- Actions that permanently destroy Variables or Clipboards,
OR IF/THEN and PAUSE Actions
REQUIRES:
Keyboard Maestro Ver 7.3+ (don't even ask me about KM 6 support).
El Capitan 10.11.6+
It make work with Yosemite, but I make no guarantees.
USE AT YOUR OWN RISK
While I have given this limited testing, and to the best of my knowledge will do no harm, I cannot guarantee it.
If you have any doubts or questions:

Ask first
Turn on the KM Debugger from the KM Status Menu, and step through the macro, making sure you understand what it is doing with each Action.
---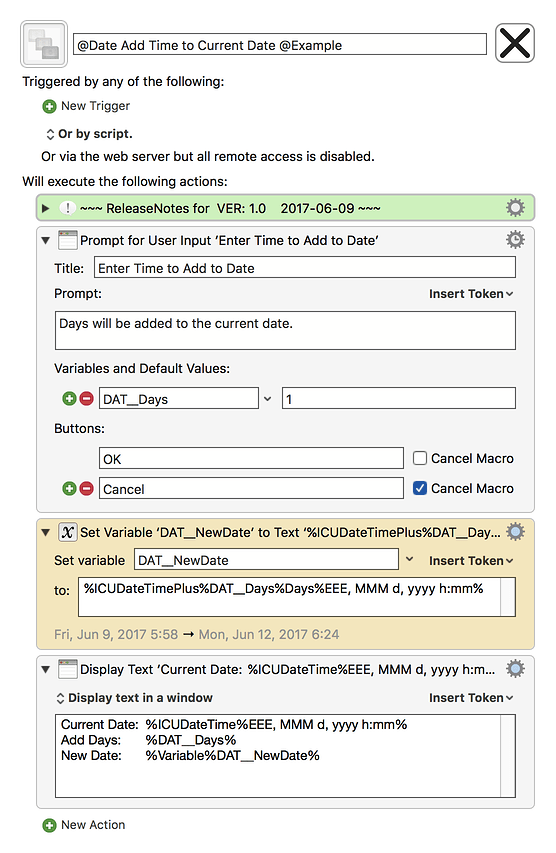 ---
Instructions
The key is this "Set Variable" date formula:
%ICUDateTimePlus%DAT__Days%Days%EEE, MMM d, yyyy h:mm%
which ADDS time to the current date. You can easily get this from the "Insert Token" popup:

which will insert this into the text field of the Set Variable Action:
%ICUDateTimePlus%3*7%Days%EEE, MMM d, yyyy h:mm%
One trick is knowing how to use a KM Variable in this formula.
Like any formula you just use the Variable Name, without the "%".
So, replace "3*7" with "my_KM_Variable_name"
%ICUDateTimePlus%my_KM_Variable_name%Days%EEE, MMM d, yyyy h:mm%
Since the Variable I used in the below macro is named "DAT__Days", it results in:
%ICUDateTimePlus%DAT__Days%Days%EEE, MMM d, yyyy h:mm%