UPDATED version 1.0.1

Modified the Workflow Suggestion - A long-running macro (actually, a prompt) macro to include a "Cancel This Macro" action at the end of the "Catch" portion of the "Try/Catch" action.
NOTE:

These macros require Keyboard Maestro version 10 and higher.
I love that @peternlewis added transparency to Custom HTML Prompts in Keyboard Maestro 10. There's all sorts of fun things we can be doing with them.
One idea I have is a way to tell the user that some long-running macro is running.
Here's a screengrab, but it's a lot smoother in real-life. This is a screen recording of an animated gif, and the screen recording was then converted to an animated gif, so it's not beautiful: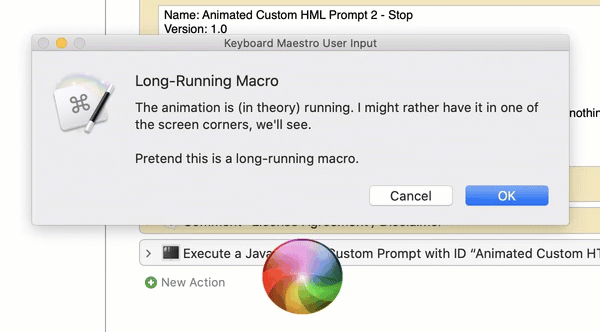 Here's some macros you can use. You don't even have to know anything about Custom HTML Prompts - you can supply the animated gif separately.
There are a lot of examples, and detailed comments, and they work well. But this is just the start of the discussion. I'm hoping people can come up with some other ideas too.
Feel free to do whatever you want with these. The "license agreements" in the macros just say that you can use the code however you want, and it's not my fault if your computer burns up, or whatever.

Animated Custom HML Prompts.v1.0.1.kmmacros (514.8 KB)