---
Moderators Note 2023/02/02 22:45 CDT
---
The Keyboard Maestro Editor now has the ability to directly select the last used macro.
Keyboard Maestro 8 added several useful menu commands:
View ➤ Last Used
View ➤ Last Edited
View ➤ Previous Edited
View ➤ Next Edited
Keyboard Maestro 10 (and 9?) refine that: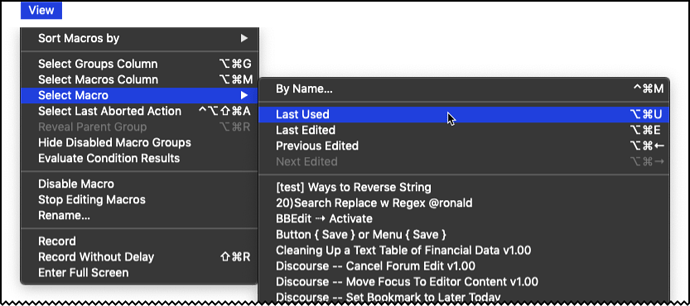 ---
Continuing with @skillet's post:
---
I use this macro all the time but about a month or two ago it broke and I can't seem to fix it.
I am trying to automatically select the last run macro with a macro (meaning the macro run before I run the macro to find the last run macro).
I think this broke about a month before I upgraded to Keyboard Maestro 10. I have spent a while trying to modify it. I didn't use to have it look in the all Macros group but it just did. I added that and the list of dropdown doesn't seem to show the order of the most recent macros.
This Forum title does say pre-KM8 though what I had was working in version 8 and 9 until the very end.
Keyboard Maestro - Show Most Recently Executed Macro - (1) Open Most Recently Used Macros v5.kmmacros (24 KB)
Macro Image