Hello BetterTouchTool users,
I always use BetterTouchTool gestures to call Keyboard Maestro macros or macro group / palettes.
Since I want to avoid too many shortcuts or other triggers in Keyboard Maestro, I use the integrated AppleScript.
You can see how I create such a workflow in this video. At the end of the video I also show the workflow, with the macros I created to make it easier to create the BetterTouchTool gestures.
This is the macro that contains the template for creating the KM AppleScript for the BTT gesture:
BTT_#G.kmmacros (2,0 KB)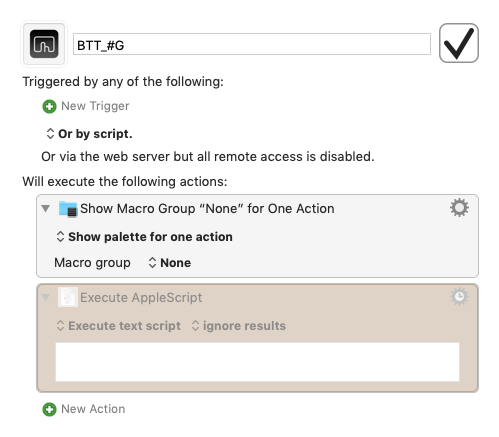 These are the macros from the Keyboard Maestro palette shown. If you have already created such a palette, add my macros there:
#Keyboard Maestro Macros.kmmacros (394,4 KB)
Then have fun and let me know how things are going with you

If someone has suggestions for improvements to the macros, then always use them.
You never learn from