Hi All,
I'm finding KM a fantastic piece of software however I'm really struggling with this use case. Would anyone be able and happy to help?
I have two directories:
MASTER


LIBRARY OF IMAGES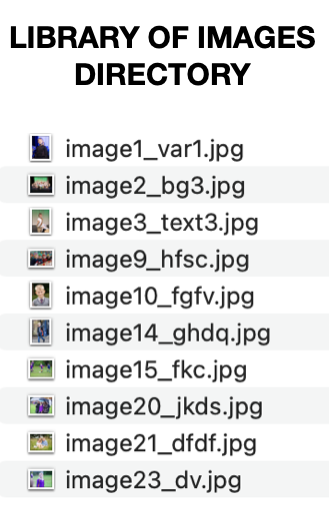 Please notice the SEPARATOR CHARACTER "_" in the library of images directory.
The file naming format in the LIBRARY OF IMAGE DIRECTORY IS AS FOLLOWS:
FileNameSeparatorCharacterVariationName
What does the macro need to do?
It needs to read the FileName in the LIBRARY OF IMAGES DIRECTORY and copy that image (in the LIBRARY OF IMAGES DIRECTORY) to the same folder in the MASTER DIRECTORY.
When loading the macro, I need to:
Choose the MASTER DIRECTORY
Choose the LIBRARY OF IMAGES DIRECTORY
Choose the SEPARATOR CHARACTER
Click GO
Once complete, the MASTER DIRECTORY will look as follows:


Any help would be greatly appreciated!