This is inspired by this recent Macro by @noisneil and uses basically the same method to create a pre-filled Action. (It also uses a method by @Martin to grab the macOS and Keyboard Maestro version numbers.)
It makes a Comments Action at the head of whatever Macro you are editing, automatically pre-filled with info about the Macro without you having to type in the date/time, macOS version, KM Version, Macro name and your own name as the Author).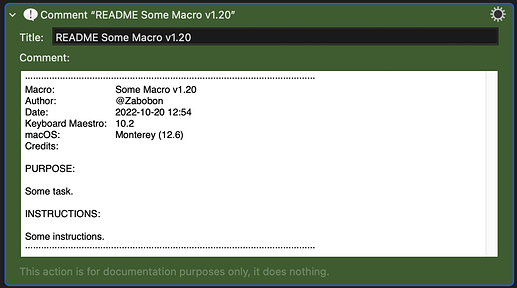 I have searched for this before in the Macros section here but haven't found a Macro that does this so am uploading in case it is of use to others. (The trickiest part was editing the XML of the Comments Action to allow plain text and to be able to specify the text.)
I'm sure it can be improved! It is here as a of proof of concept to be adapted.
Create Pre-Filled Comments Action v1.06.kmmacros (32.6 KB)
Click to Show Image of Macro