I for one have fun with puns so I'll run with it

Interesting direction to look from inside out. From macro creation to UI creates a UI dependency. Looking from outside in, from task to tool allows more UI flexibility and options.
Given the present "locate palette under cursor" option, would it take much to add a locate palettes with a x,y offset from cursor option? This would allow a fixed relationship of palette to cursor alleviating the disorientating spacial reshuffling that adding or deleting macros to a grid currently creates.
If that seems too chaotic, another option could be a few fixed grid options to plug individual palettes into.
Here's a thought: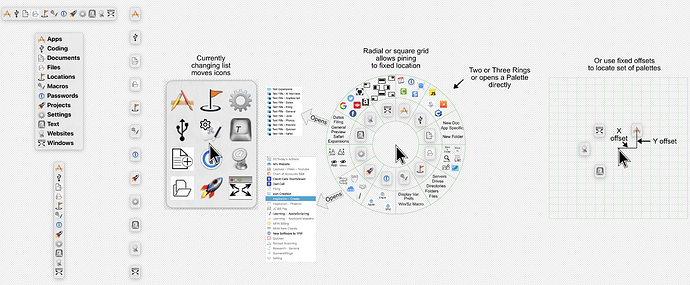 Also, instead of a second ring, there could simply be one ring design of however many slots that keeps getting called when any item on the current ring is selected.