Hello everyone,
This is my first post in this forum, glad to be here!
I've been using KM for some months now and I'm seriously starting to believe this is the greatest piece of code ever written. It is so comprehensive with seemingly endless features, yet it never feels bloated and no matter what you do, it always runs flawlessly with exceptionally low usage of resources. Thanks to anyone involved!
Having said that, I have three questions regarding KM:
First and foremost, I'm trying to find a sensible approach to deal with app-specific shortcuts for non-Menu Bar apps (those apps that don't appear in the dock). When setting up a macro group to be app-specific (as in "Available in these applications"…), the target app is the app that currently appears in the right next to the Apple logo in the menu bar. But what happens when I want to define a shortcut for an app that doesn't have a menu bar? Examples are numerous: 1Password 7 mini, Cardhop & Fantastical 2 (if you choose to), TextExapnder, and more. Is there any way to do this?

I'm having another issue that's related to the above: some non-menu bar apps come with their own set of shortcuts. I've discovered that in situations when a non-menu bar app is the one with the keyboard focus, AND there's a standard app WITH a menu bar active, AND there are KM-defined shortcuts for that 'standard' app, the typed key combination will go to the standard app, rather than the (although frontmost and with the keyboard focus) non-menu bar app.
An example: I've set ⌘E to enable or disable the currently select macro in the KM editor. When I open the Fantastical 2, Cardhop or 1Password 7 mini-menus, and press ⌘E (the shortcut to edit the selected item in each of those apps), it is the KM macro that gets triggered — and the action I was hoping to do never takes place.
Another example: Through KM, I've configured in Mail that ⌘F will perform a mailbox search. If I'm in Mail and I pop Fantastical 2 and press ⌘F to search through Fantastical events — the mailbox search is invoked instead. Is there any way to remedy this?
Iv'e noticed that setting app-specific shortcuts in macOS's System Preferences does not create those conflicts, and non-menu bar shortcuts maintain their own shortcuts. Nevertheless, I would rather stick to KM for its flexibility (in the sense that in KM, I can bind more than just menu item press to a shortcut) and macro sync abilities.
On my Mac, English is my input source of choice 99.9% of the time. Sometimes however, I use Hebrew, and when it's the current input source, conflict palettes become practically useless.
Here's an example: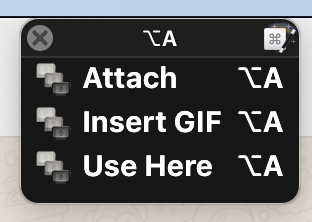 As you can see, no letter becomes bold, and there's no way to trigger an action. Is there any way whatsoever to force KM to use a specific input source? (LaunchBar, for example, has that option).
Thank you so much!