With some recent posts talking about tracking down errors, and how to handle them, I thought I'd revisit this request with some more detail. (At least, I think I requested this before.)
I'd love to see a Try/Catch/Finally mechanism put in place. From the perspective of the editor, it could look something like this: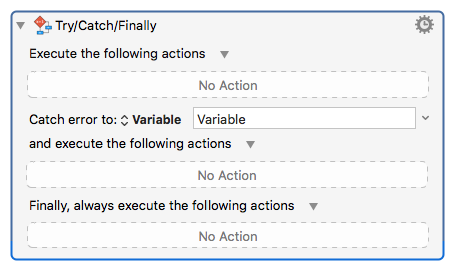 Logic-wise, if an action has "Failure aborts macro", that would be considered the error that "Catch" would catch. I suppose this might mean renaming "Failure aborts macro" to "Failure generates error", or something like that, but it wouldn't have to.
I'm not sure about "Notify on Failure". My first thought is that it would NOT notify if it's caught, but the wording might be confusing.
And finally (pun intended), I suppose this probably means we'd also need a "Throw" action, which I suspect is the easiest part of this request.
I realize this is not a simple request. But I think it's fairly obvious how useful it could be.
Thanks. Add this to the feature requests for v8. It would make a great addition, and although I would obviously upgrade regardless, it could be a pretty compelling reason to upgrade.