MACRO:   Get List of KM Variables and Size
@KM
@Tool
~~~ VER: 1.1    2018-07-04 ~~~

2018-07-04 22:14 GMT-5
Added IF/THEN Action to exclude Local and Instance Variables from list.
DOWNLOAD:
Example Output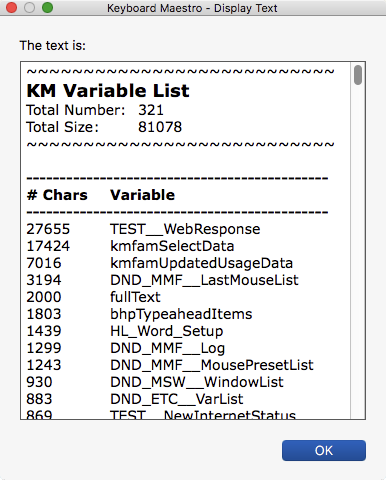 ---
---
ReleaseNotes
Author.@JMichaelTX
PURPOSE:
Get List of KM Variables with Their Size
REQUIRES:
KM 8.2+
.
macOS 10.11.6 (El Capitan)
KM 8 Requires Yosemite or later, so this macro will probably run on Yosemite, but I make no guarantees.
How To Use
Open the KM Editor App
Trigger this macro.
MACRO SETUP
Carefully review the Release Notes and the Macro Actions

Make sure you understand what the Macro will do.
You are responsible for running the Macro, not me. ??
.
Assign a Trigger to this maro..
Move this macro to a Macro Group that is only Active when you need this Macro.
ENABLE this Macro.
TAGS: @KM @Tool @Variables
USE AT YOUR OWN RISK
While I have given this limited testing, and to the best of my knowledge will do no harm, I cannot guarantee it.
If you have any doubts or questions:

Ask first
Turn on the KM Debugger from the KM Status Menu, and step through the macro, making sure you understand what it is doing with each Action.
---