###Glyphs Macro Palette (Modifier Key Characters)
####DOWNLOAD block of macros in the "Menu Glyphs" macro group
Menu Glyphs Macros.kmmacros (120 KB)
All of these macros require a Sub-Macro:
[SUB] BRW Get Page Title & URL from Safari, Chrome, or FF
---
Palette Trigger: ⌃⌥⇧G
This displays a palette of macros, with each pasting the indicated glyph. Of course you can change the trigger to whatever you like.

###Macro Triggers
After the palette is displayed, each macro in the palette may be triggered by any of the following:
Click on the Palette Item
A Typed String of ";" & the 3 or 4 characters next to the glyph & a SPACE
The Hot Key shown (if any)
The Item in the KM Status Menu
---
If you are pasting into either the Keyboard Maestro Forum or Wiki, it will paste the glyph as key caps.
---
I didn't create all of the macros, but I did customize them and add some hotkeys. I could not find the attribution to the original author, so my apologies for not giving you due credit. If you are the author, please identify yourself.
EDIT: 2016-08-15 16:26 CT (Mon)
I believe the original macros are part of the Macro Library that comes with Keyboard Maestro.
These appear to be written by

---
###Macro Group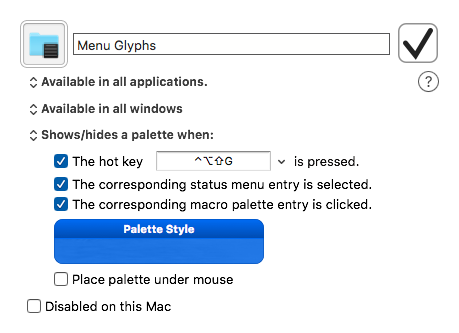 ###Example of One Glyph Macro