What's the best way to detect that 1Password Mini is opened/closed?
I'm currently using KM9's OCR functionality and the presence/absence of 1Password Mini's "Generate Password" button on screen: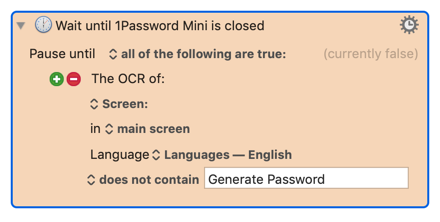 This works, but it feels a bit slow, especially since I have to run it 3x for copying username, password, and OTP code from 1Password Mini for one account (so that I can use those values later to let KM "type" them in an App, where I can't use 1Password's AutoFill functionality).
How can I improve the performance?