I share all the KM macros I made.
There are two folders there: macros and palettes. And inside there there is a little more nesting like app and global inside app.
To add the macros that are now on GitHub, I had to manually select the macro library in KM sidebar and export them one by one. Like for example this 1Password library here: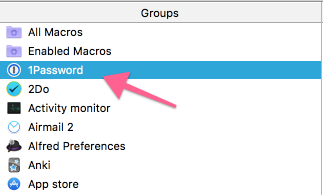 And then clicking Export Macros... menu bar action: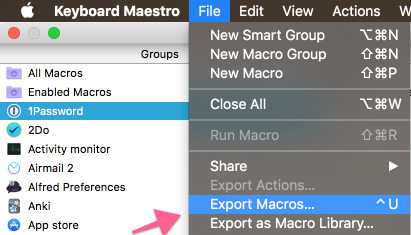 I did that for every single one of the libraries I had and then manually sorted the files into folders. Where 1Password/2Do and other single app macro groups went into app folder. And macro groups that are global in scope that I often prefix with something went into global folder.
The same thing for palettes too as they are just KM macro groups too.
My question then is how can I automate this process of exporting all the relevant macro groups from KM into the appropriate files on my system so I can commit them.
Another issue is that I don't want to export all macro groups. Some groups like ones that start with per: prefix (stands for 'personal') or these two groups:

I want to keep. Because they contain private info that I don't want to share. Everything else however I want to share and I need a macro that when pressed will export all the macro groups except the few that are private so I can commit them. Without having to manually click through the sidebar and export macro groups one by one.
Is this possible to do? I would appreciate any help on this. Thank you.