How to Troubleshoot Keyboard Issues
Occasionally we see a post asking about problems with the user's keyboard, keystrokes. Since Keyboard Maestro can capture any keystroke, it is a logical candidate to investigate. Sometimes the user has created a macro with a hotkey or typed string trigger that they forgot about.
One quick way to check KM for macros that have a specific keystroke in the trigger is to use the KM Editor Global Search. You can access Global Search by any of the following:
Shortcut: ⌘⌥F
Click on the in the Groups Panel, then click in the Search box (upper right corner)
Next, in the Search box, use the t: qualifier to search for triggers.
For example, to search for macros who have a trigger of ⌃⇧P, I just type:
t:⌃⇧P
Here's a short animated GIF showing how to do this:
First, it shows ALL of my macros
I type t: to make it a search for triggers
As I type ⌃⇧P you can see the search results
Note that to get the symbols "⌃⇧", and other modifier keys you can use your Mac Keyboard "Show emoji and symbols" tool: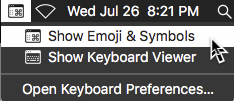 ###Search for Macro Trigger

### Troubleshooting Outside of KM

Here's a great article by MacWorld that you might find useful:
[When you can"t type a certain character on your Mac, here"s how to troubleshoot it](https://forum.keyboardmaestro.com/)

~~~~~~~~~~~~~~~~~~~~~~~~~~~~~~~~~~~~~~~~~~~~~~

### Other Techniques

If you know of other techniques and/or resources for troubleshooting keyboard issues, please post below.