I love love love Keyboard Maestro and have loved it ever since I first found it back in 2019. So much so that even though I don't actually need/use any of the new features in KM11 (at least, not yet), I still upgraded almost immediately simply because I wanted to support @peternlewis and this amazing tool he's created!
That being said, this "upgrade" has been... a struggle, to put it mildly. The app is now so buggy and slow for me that it is almost completely unusable. Sometimes it's fine, but it's in really rare form tonight. Here's a video showing you what I'm dealing with and the timeline of events for context. (Note: In case it's unclear, this is NOT a KMFAM problem; this is a KM11 problem that affects every single macro. I only used KMFAM as an example at the beginning of the video to demonstrate the problem. As you'll see at the end of the video, it also occurred when running a very simple macro that just simulates a keystroke).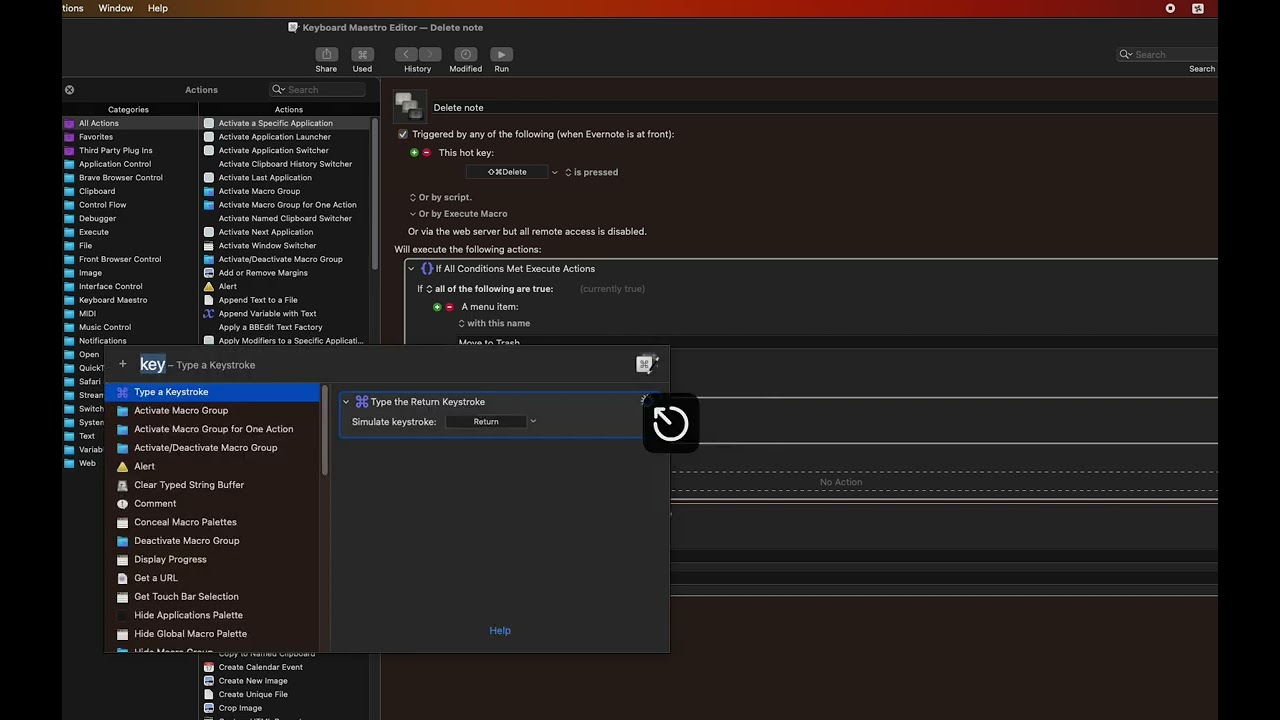 0:01 - I hit ⌘O to run [KMFAM] Favorite Actions and Macros. You can see that the KM icon is spinning in the menu bar, so it's working.
0:50 - I finally gave up and try the shortcut again.
1:41 - I give up and hit ⌘K, which is a very simple macro that simply simulates ⌃⌘A to insert an action by name.
1:53 - The simulated ⌃⌘A keystroke from 12 seconds ago finally registers.
2:11 - The original attempt to run KMFAM (over 2 minutes ago) finally finishes and opens the dialog window.
2:16 - I type the string "menu," which never even shows up in the text field before...
2:25 - ...the second attempt at 0:50 to run KMFAM finally starts doing something, which I didn't realize at first because it wasn't until...
2:29 - ...that the search bar to insert an action by name opened up, which is what happens when KMFAM is already running and you use the hotkey again.
Before recording this video, I checked Activity Monitor and didn't see anything eating up a ton of memory or CPU or anything, so I tried quitting/restarting KM and KM Engine. That didn't make a difference, so I went ahead and rebooted my computer assuming that would fix it, but nope! All to no avail. That's when I decided I can't live like this anymore and recorded the video

So, any ideas what the heck is going on here? Because I'm honestly about to just give up and go back to KM10

Any help would be greatly appreciated!
Specs:
M1 Mac Mini
Sonoma 14.0
Keyboard Maestro 11.0