Hi,
I'm running KM11 on Sonoma (14.1). I'm seeing a temporary freeze every time I use Keyboard Maestro Editor. From the editor, if I invoke the settings window with Cmd-, (mysteriously, this doesn't happen if I select the "Settings..." from the menu, I get the following dialog: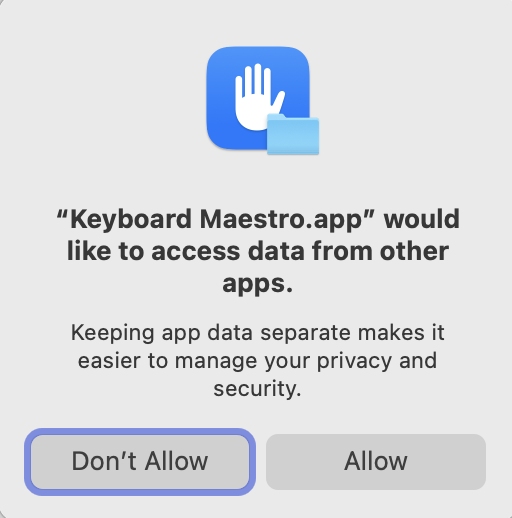 If I click "Allow" the app beachballs for perhaps 20-30 seconds. If I click "Don't Allow", it seems to go to the settings quickly. Of course KM won't be happy with "Don't Allow".
macOS doesn't seem to be remembering whatever answer I give as if I restart the editor and invoke the settings the same dialog appears. If I don't invoke the settings, the dialog will pop up at some point when I'm navigating around the editor, or when I'm trying to quit it.
Things I've tried:
Restarting KM
Reinstalling KM
Rebooting
Rebooting in safe mode
Checking the "Security" section in KM editor. All green checks.
Tried off/on these security options in macOS's settings app, restarting KM every time.
None of the above seems to have helped. The dialog keeps popping up, the answer is not remembered, and KM editor keeps freezing for a while.