Continuing the discussion from MACRO: Renumber Macro Prefix Numbers:
Since this is substantially off-topic for the above topic, I have started a new topic just to discuss a comparison of palettes vs trigger by name.
---
Dan, obviously you have developed a preference for this approach.
Can you comment on the pros/cons of using a large palette, vs using trigger macro by name (which I'm using more and more)?
Here are mine:
Pros of using Long Palette

Helps you remember what macros you have when you have a long list
Great for people who prefer mouse over keyboard
Great when you have a sequence of Macro to run, each with a single click
Example: Using Dan's Macro Alias technique, I created this long palette for Evernote, for when I can' remember even what macros I have: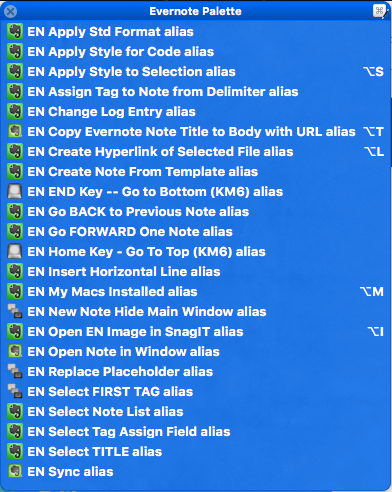 Note here I have also assigned hot keys to trigger the most often used macros.
Pros of using Trigger by Name

Doesn't use any screen space until I need it
Doesn't require any use of the mouse
All I have to do is remember any word in the Macro name
As I type the name, the selection quickly shortens
I can use a common word to quickly show a related macros, like "Fav"

Cons of using Trigger by Name

You have use the "n:" qualifier to actually filter by Name
The filter will include characters within a word, which I almost never want to do
Example: Using "EN" as the initial search by name: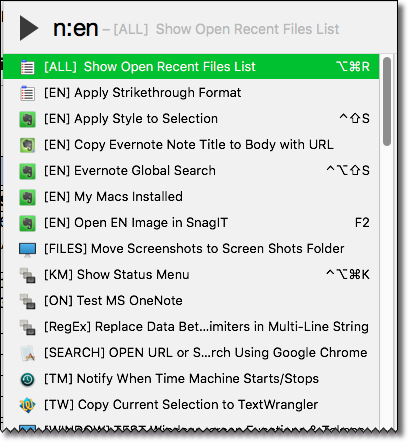 ---
I am still developing my techniques and preferences for finding and triggering macros. I welcome all discussion on that subject here.