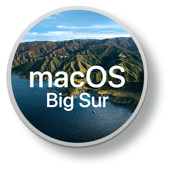 Dealing with macOS Big Sur
This topic is dedicated to providing tips, suggestions, and workarounds to using the upcoming macOS update Big Sur.
First, here are two lists (forum searches) that you should find useful:
So if you are running macOS Big Sur, and think it may be causing some problem(s), related to KM or not, please post as a new topic in the Questions and Suggestions section, and include "Big Sur" in the Title, and tag it with "bigsur".
As issues are identified and fixes or work-arounds are found, we will post either a link to the topic or the substance of the topic here.
It would be best to post all new issues in a separate topic, rather than here, so that we can have a proper discussion, and close.
Known Issues
It is likely many of the Mojave/Catalina issues remain in Big Sur.