clap clap outstanding macro @DanThomas , as usual a must have
Hello @DanThomas
Wow - you did it again - You created something that EVERY PERSON SHOULD HAVE !!
THANK YOU FOR MAKING / SHARING !!
Since I am also lost when working on Projects in KM - I just downloaded this Palette but I have some Questions:
Can I install it without upgrading to KM 10 ??
Can you update the OP pointing to reflect the minimum Requrements for this Palette ??
Greatings from Germany
Tobias
Thank you, and you're welcome.

Can I install it without upgrading to KM 10 ??
Can you update the OP pointing to reflect the minimum Requrements for this Palette ??
Yes, it should work just fine in KM 9. However, you really should upgrade to KM 10, because it's awesome, and it adds an additional feature you can use in this macro. See the notes I added to the OP.
For anyone just skimming this thread, here's a recap of a change I just made to the original post. Note that this does NOT require downloading a new version of the macro.
NOTE for users of KM10 and above:
This macro will work in Keyboard Maestro version 9, BUT if you have KM v10 or later, you can have the palette display in the Menu Bar if you want:
 
Just setup the palette like this (the red arrows point to the important things):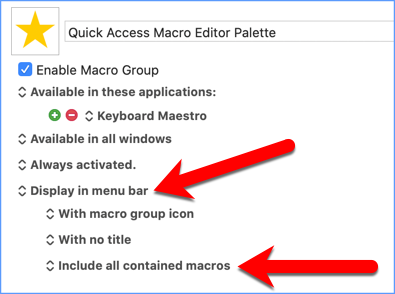 Thank you for the quick reply and the Info...
by the way - Merry Christmas
just thinking about providing me an additional Christmas Present to my recently bought iMac and StreamDeck XL (also self provided Christmas Presents) on buying KM 10
oh my - the most expensive Christmas Presents I have ever bought in My Life so far...
Greetings from Germany
Tobias
Sounds like your Christmas will be Merry indeed!

You're absolutely right... I am about to change my Life piece by piece - even it is not an easy task for me...
Hi Dan,
Thanks a lot for sharing. Another great macro!
I have a question/request, is it possible to add an option to trigger the macro?
I was thinking that maybe we could use, say, "cmd/ctrl + click" to execute the macro. It maybe as simple as adding an "If modifier key is pressed" condition to decide with to execute the macro or jump to the macro (screenshot below), but I don't have the ability to edit the JXA code at all.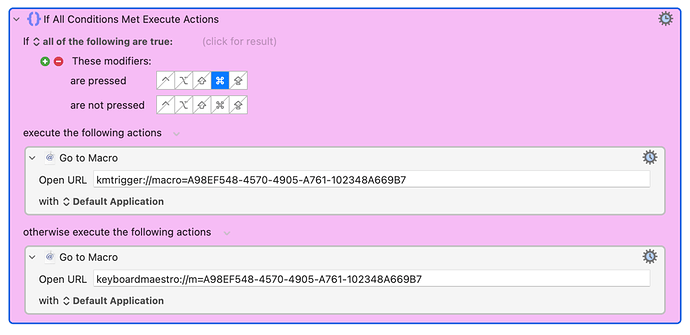 That sounds doable. I'm not sure when I'll get to it, but hit me up again in a week if I haven't done it by then.
New version. You can download it from the original post.
Version 1.1
You can now select more than one macro at a time, and palette items for all selected macros will be added.
If you hold down the Command key when you click on a palette item, it will execute the macro instead of editing it.
Great additions, thanks Dan!
@DanThomas, this is another incredibly useful macro! Thanks so much for sharing your time and expertise.
Others may not be aware of one of your other amazing macros: Palette Organizer. It's a great tool if one wants to rearrange the items in a group for a Conflict Palette including a group for Quick Access Palette (or menubar menu for KM 10+).
I wasn't aware of this one until a few months ago, and when I discovered it, it was a game changer for me!
Hello Dan,
Your macro is extremely useful. One of the uses are work in progress macros as you mention, and another is using your palette to store templates.
Templates are different from work in progress because instead of going to the template, I first go to the template → duplicate it → open the duplicate.
I created a variant as per below.
⌘ runs the macro (like yours)
⌥ creates a duplicate and goes to it.
the default is to go to the macro
I tried to see if I could edit your 99)Add Selected Macro to Quick Access Palette Macro, but it is way beyond me.
thank you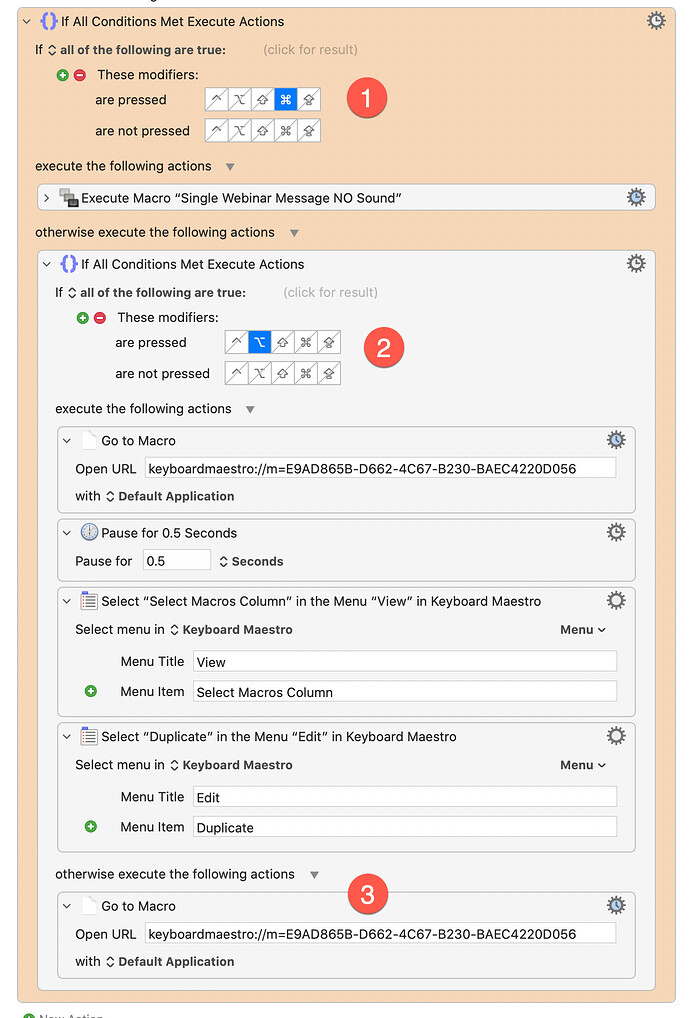 Yeah, that's not something you can change. Sorry.
A feature request for you @DanThomas: since I work on several KM projects at a time, I'd like to have a separate Quick Access palette for each project. Is that something you could do please?
You can do it yourself, actually.
Right-click on the current Group, and select "Duplicate Macro Group".

If you still have the bottom separator 98)------, then do this:
a. Right-click on the "98)" macro and copy the UUID.
b. Paste it in place of the UUID that the red arrow points at here:


You'll probably want to change the new Group's icon, and name.
That's it!