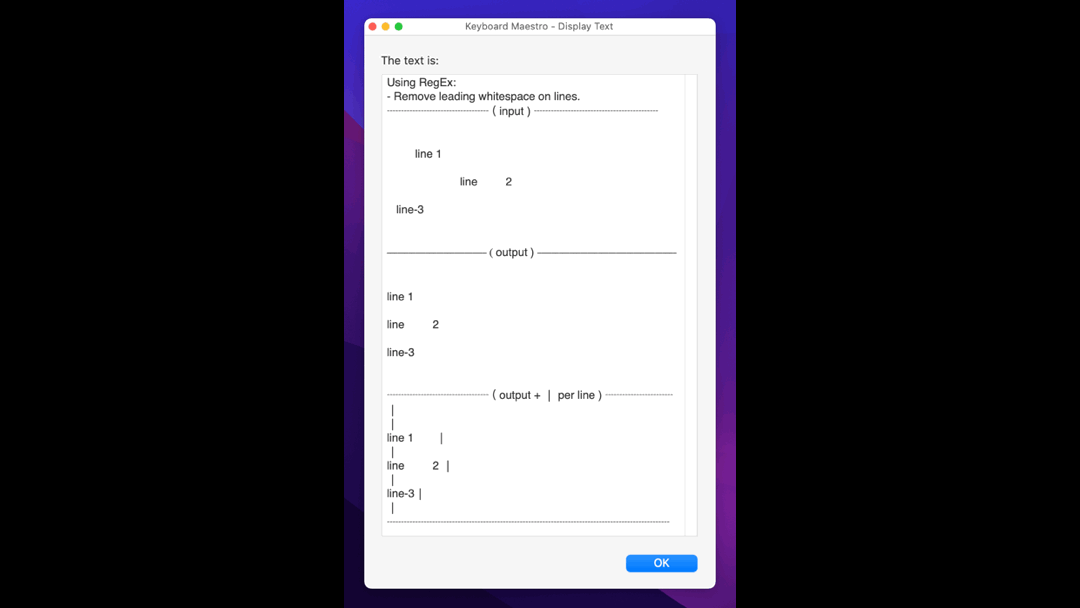 ---
DESCRIPTION
Often macros require text transformation actions. Although a common requirement, many times developing these can be challenging.
I've created this macro with a goal to efficiently share text transformation techniques amongst users. I started by including 16* (see list below), but this macro would be especially valuable if you and others in the forum contribute more.
If you have techniques that you'd be willing to share, please download, add and test yours, and repost an updated version of the macro in this thread. The first comment in the macro includes full instructions.
---
List of Examples
EX 1: Remove leading whitespace on lines [regex]
EX 2: Remove trailing whitespace on lines [regex]
EX 3: Remove leading whitespace on lines + whitespace-only lines [regex]
EX 4: Remove trailing whitespace on lines + blank lines [regex]
EX 5: Remove leading/trailing whitespace on lines + whitespace-only lines [regex]
EX 6: Remove leading/trailing whitespace on lines + comments/whitespace-only lines [regex]
EX 7: From URL, extract the domain excluding .com, .org, etc. [JavaScript]
EX 8: Double-space lines removing leading/trailing whitespace-only lines [shell-awk]
EX 9: Randomize characters [shell-shuf]
EX 10: Randomize characters [shell-native Bash]
EX 11: Capitalize every word removing leading/trailing whitespace-only lines [JXA]
EX 12: Titlecase using the clipboard removing leading/trailing whitespace-only lines [JXA]
EX 13: Uppercase letters [filter]
EX 14: Uppercase letters removing leading/trailing whitespace-only lines [Ruby]
EX 15: Straighten quotes removing leading/trailing whitespace-only lines [Perl]
EX 16: Uppercase consonants; lowercase vowels [regex-case conv meta chars]
EX 17: Remove trailing whitespace on lines [JXA]
EX 18: Extract nth line from a list [shell-head & tail]
EX 19: Extract nth line from a list [awk]
EX 20: Extract nth line from a list [sed]
EX 21: Extract nth (or -nth) line from a list [AppleScript]
EX 22: Condense Unix-style config file [shell-native Bash]
EX 23: Remove HTML comments [shell-sed]
EX 24: Remove HTML & Unix-style comments [shell-sed]
EX 25: Replace specified lines [search and replace–regex]
EX 26: Replace words retaining case [JXA]
EX 27: Remove whitespace-only lines [regex]
EX 28: Remove whitespace-only lines & terminating \n [regex]
EX 29: Extract the last line containing specified text [regex]
EX 30: Remove leading/trailing whitespace on lines + convert whitespace-only lines to newlines [shell-native Bash]
EX 31: Remove leading/trailing whitespace on lines + whitespace-only lines [shell-native Bash]
---
Download: Text Transformation EXAMPLES.kmmacros (259 KB)
Macro-Image

---
Macro-Notes

Macros are always disabled when imported into the Keyboard Maestro Editor.

The user must ensure the macro is enabled.
The user must also ensure the macro's parent macro-group is enabled.

---
System Information

macOS 13.5.1 (22G90)
Keyboard Maestro v10.2

---