MACROS: Mount Drive, Unmount Drive, Check if Drive is Mounted
External Drive Macros.v1.0.kmmacros (40.5 KB)
PURPOSE:
These 3 macros allow you to:
Mount a drive (if it isn't already mounted).
Unmount a drive (if it is mounted).
Check to see if a drive is mounted.
NOTE:
If you want, instead of using these macros, you can just use the relevant actions, which I show along with the macros.
---
Mount Drive if Needed (Sub-Macro)

Relevant actions: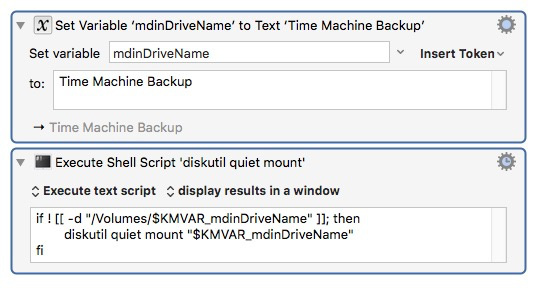 if ! [[ -d "/Volumes/$KMVAR_mdinDriveName" ]]; then
    diskutil quiet mount "$KMVAR_mdinDriveName"
fi

---
Unmount Drive if Needed (Sub-Macro)

Relevant actions: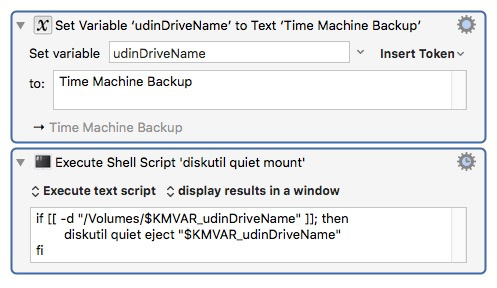 if [[ -d "/Volumes/$KMVAR_udinDriveName" ]]; then
    diskutil quiet eject "$KMVAR_udinDriveName"
fi

---
Check if Drive is Mounted (Sub-Macro)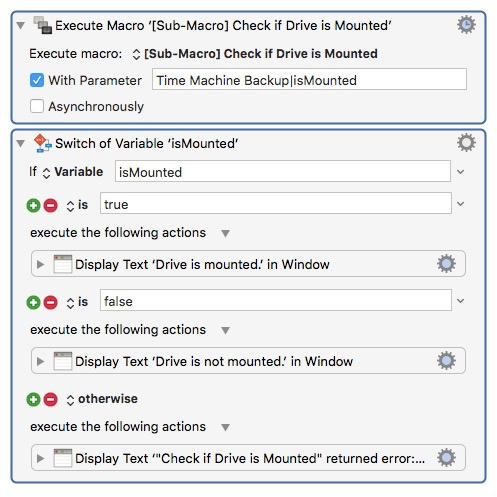 Relevant actions: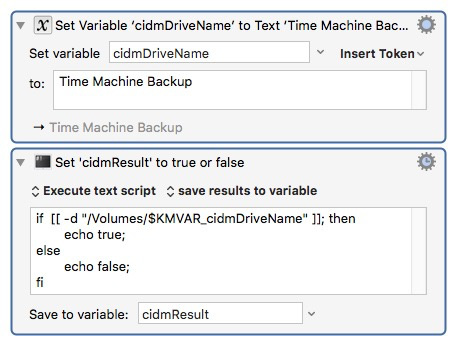 if  [[ -d "/Volumes/$KMVAR_cidmDriveName" ]]; then
    echo true;
else
    echo false;
fi