Hi Everyone!
I have been pouring over every piece of documentation about clipboards and manipulating the values in clipboard data (either system or named). I've come across regular expressions and the documentation was confusing to me. I'm self-taught programming, but I know I have a long way to go.
My goal is to copy a path of a folder (using command + alt + c) and then change the content of the clipboard to a portion of the path (mostly the end). Then I want it to rename the file using the new string. I have tried and discarded many things and I don't remember a lot of it (been working on it for like five hours, I'm nothing if not persistent), but I will most likely remember what I have and haven't tried.
I believe I need to use regular expressions (Regular Expressions [Keyboard Maestro Wiki]) to search the string, but the search modifiers are very confusing to me.
Here's what I currently have set to trigger when I hold down F10: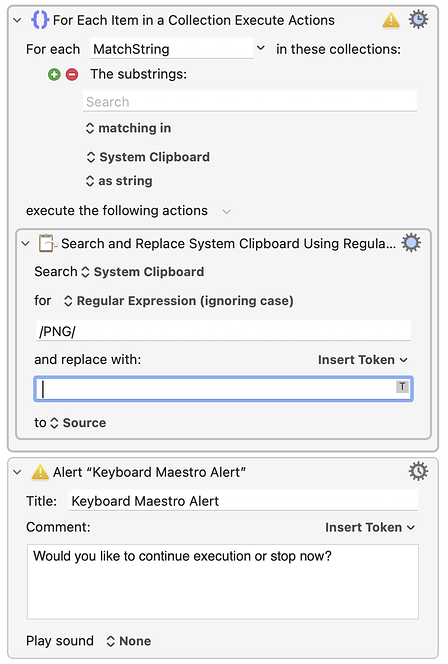 I'm hoping that I'm on the right track, but this particular task feels like I'm making it way more complicated than it needs to be. If anyone has some guidance or is willing to work with me a little so I can learn, I would greatly appreciate it!
Thank you so much!