OSX 10.11.6.
KM: 7.3.1
I have created a number of macros which help me to organize my notes system. I rely on palettes that get displayed for a single action, which I trigger by pressing a corresponding shortcut. Some of those shortcuts open up other macro groups as palettes that get displayed for one action, etc. The basic hierarchy is this:
Preferences

Option 1

Option 2

Option 3

Action 1

Action 1a
Action 1b
Action 1c

Action 1c - Clarification - Option 1
Action 1c - Clarification - Option 2

Action 2

…
However I have the problem that my palette only works sometimes. I don't know why that could be I tried to look at the logs (here's a trunked one), which only show that I have pressed the desired hotkey. As you can see, sometimes it lets me do more than just pressing one hotkey, but sometimes it doesn't. Here's a screencap: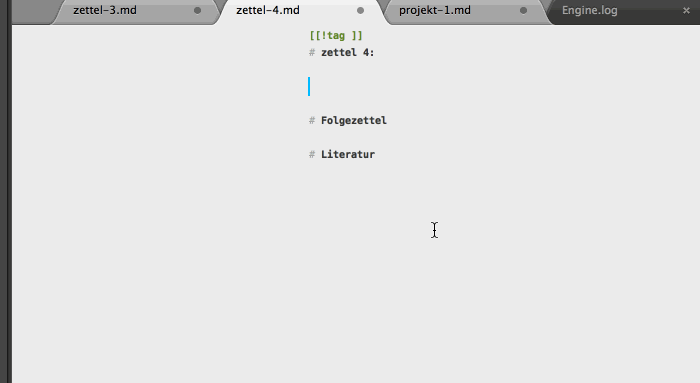 What you see here: I'm pressing the short cut to open the palette (cmd+shift+u in my case) and then press different hotkeys ('1', '0', '3', '1', '1', etc.) until it takes.
Now, I assume that my macros might be to blame here. I will also include the two most complicated macros:
zkn Test Group Export Macros.kmlibrary (21.6 KB)
"zkn2 neuer Zettel (siehe Palette!)" is a macro which finds out what is the highest number a file of the naming pattern $prefix-xxx.md(wn) and creates a file of the same naming convention where xxx+1 this macro itself is used in other macros that specify the prefix
"zkn2 Create Zettel-Link" is a macro which interprets shortcodes and expands them. If I write "z1" this gets expanded to [[/zkn2/zettel/zettel-1]], if I write "k7" it gets expanded to [[/zkn2/konzept/konzept-7]]. In order to catch a possible mistake where I wrote p1 instead of either pe1 (person) or pr1 (project) another palette is opened up which allows me to chose if I meant to create a link to a note about a person or one about a project.