For another macro I'm working on, I wanted to clean up the presentation of a report it creates. It's a text file, in a monospace font, but it contains rows of two-columnar data that don't align, because both sides are of variable length. The output comes directly from a Unix command, so I can't really (easily) control the incoming format.
I wanted a way to insert a divider between the two sections, at the same column number such that all the left-side terms would fit. I eventually settled on two passes through the list with some regular expression games—the first pass figures out the longest left-side term, which sets the location of the divider. The second pass pads each entry, if needed, to that column.
If there's a quicker/easier way to do this, I'd love to hear it—thankfully, my lists are always short (shorter than in this demo), so there's no real time issue from looping all entries twice. But I'm always open to a better solution.
Here's the before-and-after with my test script: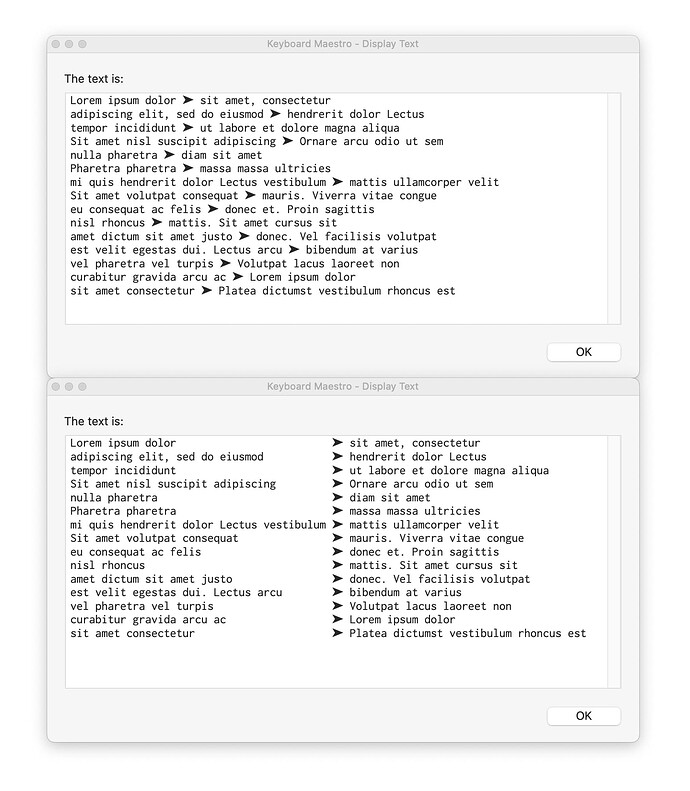 And here's the test script:
Character Padding experiment.kmmacros (12 KB)
This solution would be horrid for super long lists, but it's fine for short ones. Any better way to attack this?
-rob.