I am sorry I can't figure thus out. When a macro is created, it can be triggered by a hotkey or a bunch of other actions. However, from a palette standpoint, it only gives the option to be triggered by the Global Macro Palette. I would like to be able to select another palette to trigger it with.
For example, I have created a palette called Outlook and it only is active when Outlook is active. Any macro I put into that Macro Group shows in the Outlook Palette when Outlook is active. So far so good.
But, I have like 20 macros in the Outlook Macros group. I want some of these to show in the Outlook Palette. I can do this by copying or moving the ones I want to the Outlook palette group but copying is problematic for making modifications of a macro and moving makes me look at two places to modify a macro. If I had the "Triggered By" option of "Outlook Macro Palette Trigger" than I have all I want. For the macros, I want to appear on the Outlook Palette, I just also put a trigger for it on the macro solving the above copy/move problems.
In short, what I am looking to do is have the "Outlook Palette" as an option on this menu: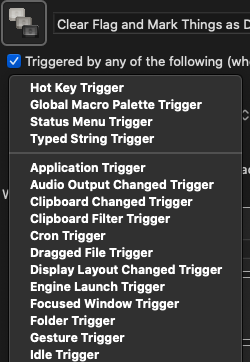 I am sure that this is very easy, but can'y figure it out.