MACRO: Make Macro Alias
Make Macro Alias.v1.0.kmmacros (33.6 KB)
---
[Moderator's Note: This is now a native feature in KM 8+:
Create a Macro Alias by any of these:
⌘L, Menu Edit > Make Alias, Drag/Drop with ⌘⌥ to another Macro Group.]
---
Sometimes I have a Macro in one group, and I want it in another group also. Usually this is because I want it on more than one Palette, or I want to have it on a Palette, yet give it a hotkey that works even if the Palette isn't visible.
I don't like duplicating the code in the original Macro. So the alternative is to create an "Alias". That's a Macro with one action in it, an Execute a Macro" action that executes the original Macro.
Perhaps this animated GIF can explain it better than words can: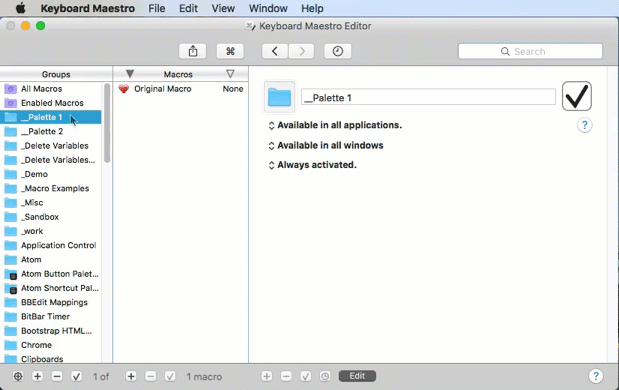 All you have to do is select the original Macro, trigger this macro, and you get an "alias" to the original macro. Drag it somewhere, change the name, and you're good to go.
NOTE:
If you try this macro and it doesn't seem to do anything except beep, please see this post (click on it to see the full post):

I believe it's a simple fix. And I'd like to know if this affects you. Thanks!