I continue to believe that one of the things that keeps more people from using Keyboard Maestro is not knowing what they would use it for.
I also think that we who are very familiar with Keyboard Maestro sometimes make the mistake of thinking that only our complex and "impressive" macros are worth sharing.
I'd like to propose that we share some "Simple But Useful" macros that we might have made. (If this has been done in the past, please link to the post.)
Space + Down Arrow (Repeat)
Here's one that I made tonight. I'm not going to use it very often, but I'm going to keep it around because I often run into a scenario where it would be useful.
Tonight I was going through Displays and turning off resolutions for my monitor that I will never use. The app presents a staggeringly-high number of options, but in reality, I want, like, 3.
However, disabling the others meant that I had to go down a list and repeat two keystrokes:
Spacebar. Then the down arrow.
Spacebar. Then the down arrow.
Spacebar. Then the down arrow.
Now, I could do that pretty quickly just by mashing on the keyboard, but inevitably I missed some. Why not let Keyboard Maestro do it for me? So here's what I did: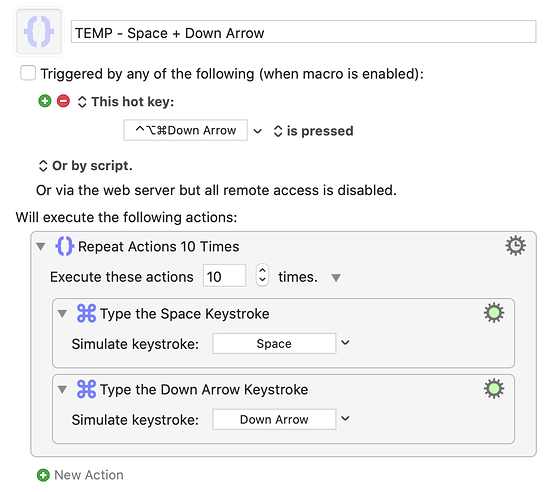 TEMP - Space + Down Arrow.kmmacros (2.2 KB)
Now, you'll notice that the macro isn't enabled. That's because I don't want to leave the keyboard shortcut active all of the time. Next time I run into a long list of checkboxes, I can re-enable this quite easily.
But now, every time I pressed that key combination, it went through 10 lines. And I never had to worry about hitting the down arrow before the space bar, or hitting the spacebar twice, or the down arrow twice by accident.
Of course I could have increased the 'repeat' counter to more than 10, but that seemed like a good number to me. I pressed it 3 or 4 times and was done.
So… what are your Simple But Useful Macros?