I have an AppleScript that does some window manipulation. I've been calling it like this:
set var winXCenter: ROUND(SCREENVISIBLE(Front,MidX))
set var winYCenter: ROUND(SCREENVISIBLE(Front,MidY)+100)+8
etc
call AppleScript macro as "execute macro," passing nothing but having the global vars available.
But it bugs me having to set five variables, then pass those variables to the AppleScript macro, then clear them later. What I'd prefer to do is this: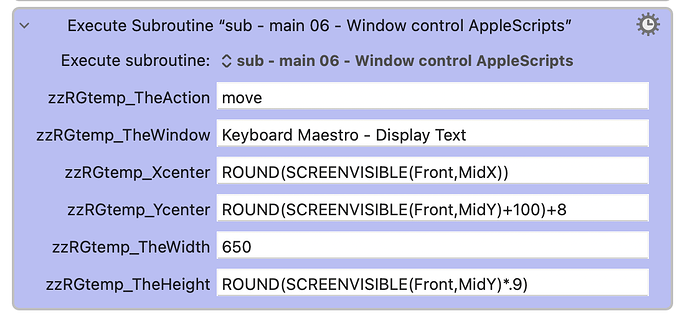 Then, within the subroutine, I want to set my variables to the outcome of those calculation strings. Is this possible? I tried this:
set var winXCenter: %Calculate%zzRGtemp_Xcenter%
But that fails to calculate. Is there any way to calculate the result of the calculation in the passed string?
-rob.