Hi!
Is there any way to set up a condition for While 'Triggering Macro' is executing?
I've been trying to create a progress bar that loops for visual confirmation while a long running macro is running. (Primarily for long running scripts without individual steps that would otherwise be displayed well by the KM11 Group action display progress feature).
My macro's core functionality is working quite well, and I am implemening this feature into the long running macro, as an Execute Macro action that (asynchronously) runs the Looping progress bar macro while the triggering macro runs.
But (and here comes the actual question) is there any way to set up a condition that I would not have to reset for each macro where I'd like to display my looping progress bar? Similar to the behaviour I'd get if the field (pointed out by the green arrow below) could be set to "Triggering Macro":
Macro status looping progress bar Macro (v11.0.1)
Macro status looping progress bar.kmmacros (6.4 KB)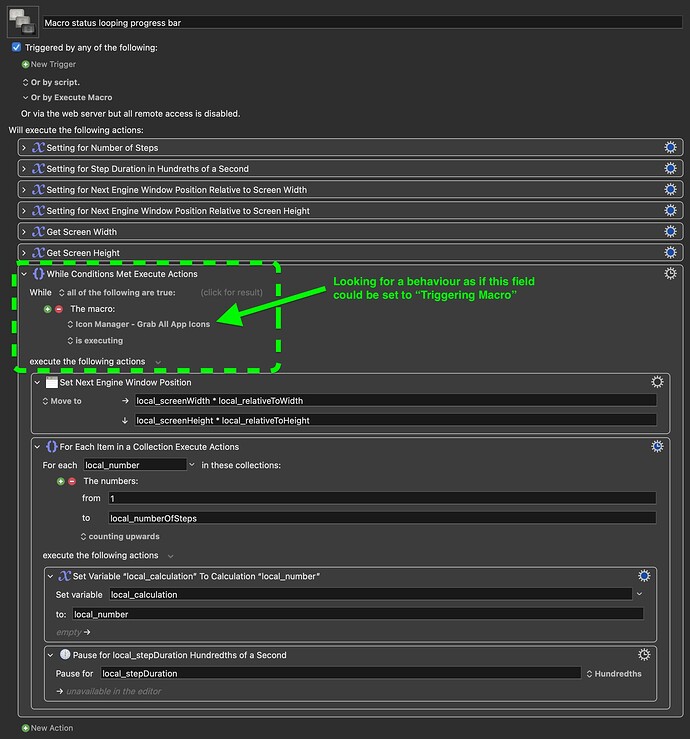 (Used
@cdthomer
's macro as example here while testing my macro, as it was a long running script-based macro I had at hand)
(By the way: I realized while creating this thread (through the forum's existing thread suggestion feature) that @vincent_ardern have already pretty much created the macro I've been working on. But there there is no indication in his thread that he have a solution for the 'While Triggering Macro is executing' challenge so this here thread's main question stands.)