I know there are other posts on here about this, and I think I've read through them and tried their suggestions. Still no joy.
This is the relevant action in the macro, in KM 9.1: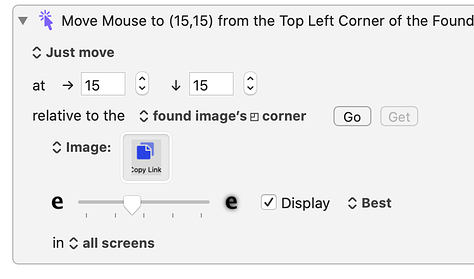 So far I've:
Went in and manually enabled the Screen Recording security setting in Preferences
Adjusted the "fuzz" a few different ways
Done a "Capture All Screens" action before this, just in case there was some preference in macOS that still wasn't activated (per a suggestion from Peter in another post)
Done a "pause for 2 seconds" before my "found image" action
Done a "pause until...." with a "found image" condition, using the same image and various "fuzz" settings
I'm hoping I'm missing something very, very simple. Can anybody shed some light on this?
ETA: Incidentally, this is an image in a popup (the "sharing" popup from Finder), if that matters.