As you certainly have noticed, after an endless time of waiting Things 3 has been released a couple of weeks ago.
And, as a sidenote, Things 3 is probably one of the greatest apps ever written (macOS and iOS), and certainly the best general-purpose task management app. [1]
One thing was bugging me:
With ⌘T you can assign the start date 'today' to any to-do item. But the ⌘T shortcut is completely functionless if the to-do is already set to 'today'.
Well, it happens that one of my most frequent actions on 'today' items is: setting them to 'tomorrow'

I can do this with the ⌃] shortcut, which is equivalent to start date += 1 day. But, why not use the ⌘T-shortcut slot to do it? The mnemonics are already perfect…
So, here a tiny macro that does only one thing: If you hit ⌘T on an item that is in the Today list it will set the start date to 'tomorrow'. (If you hit ⌘T on an item that is not in the Today list, then the shortcut will behave as usual and set it to 'today'.)
Conditionally Remap Cmd-T (ver 1.1).kmmacros (3.5 KB)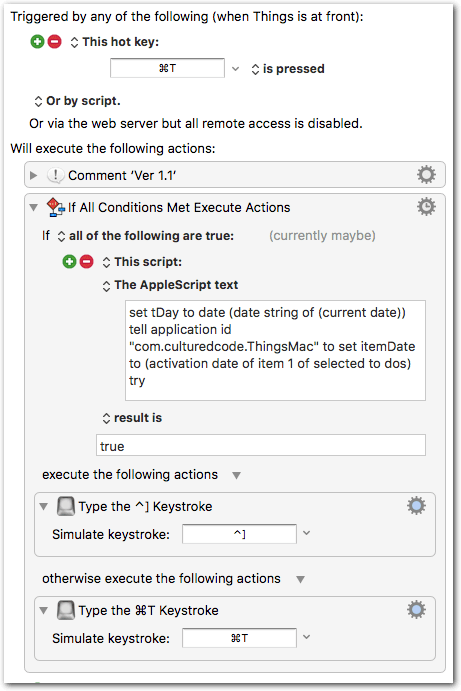 ---
Update 2017-06-25, ver 1.1
I changed the date test script slightly:
Now the ⌘T-defer-to-tomorrow will also work if the activation date of the selected to-do is before today. That is, it also works with to-dos that are camping in your Today box not only since this morning. I know, in real live such a thing would never happen

but now the ⌘T-defer consistently works on all 'today' items where ⌃] would work too.
I have updated the original download link to the new version.
---
[1] Concerning the second to last part of that phrase some folks may say I'm exaggerating a little bit. But I don't think this is true.