---
Please see Post #16 to find version 6.00 of this macro. (Link)
EDITED 2023/01/24 15:12 CDT
---
Hey Folks,
I finally got around to automating the date-stamps in my paste attribution macro.
Currently the pasted attribution looks like this: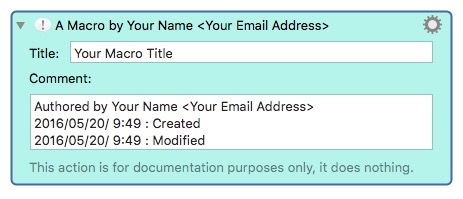 But you can edit the XML to suite yourself – OR you can create a new attribution comment – export it as an action – open it in a text editor like TextWrangler – and copy the new XML into the set attributionAction variable action.
The action will be imported into the macro you're currently editing in the Keyboard Maestro Editor.
-Chris
[Edit: updated 2016/05/22 09:38 CST to v1.0.1]
[Edit: updated 2018/03/13 00:18 CST to v4.00 -- see post 11 below.]
---
Paste Dated Attribution Action v1.01.kmmacros (25 KB)