I'm attempting to begin using Keyboard Maestro to set and sync all of my custom keyboard shortcuts.
I have traditionally used macOS System Preferences > Keyboard > Shortcuts to set these Keyboard shortcuts.
Using Keyboard Maestro, I'm noticing a slight lag/delay when pressing hot keys, vs. the immediate input when using the system dialog.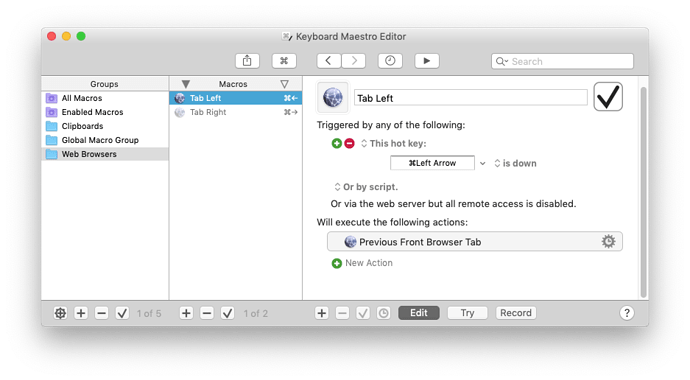 Even when I use "is down" as the hot key trigger, Keyboard Maestro is still noticeably slower to react than System Preferences. "Is pressed" is even worse.
This is very noticeable when using the tab-switching shortcuts above. It's very fast to tab-right using System Preferences. It feels comparatively laggy to tab-left via Keyboard Maestro.
Is there any way I can modify Keyboard Maestro to have the same performance as System Preferences? Or is this an intrinsic advantage of System Preferences keyboard shortcuts?